Trump Earns Rare Praise from Blue Check Twitter For Reversing Course on Elephant Trophies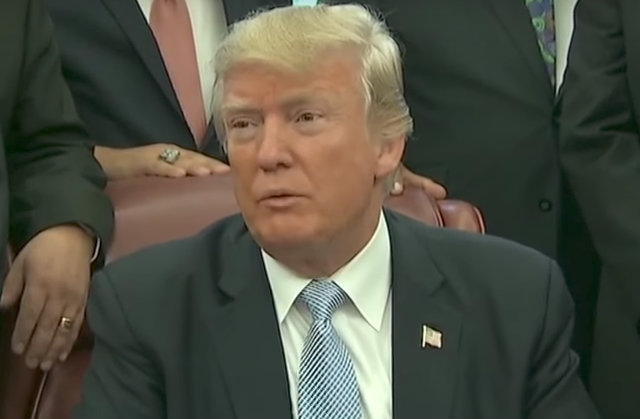 Earlier this week, it was reported that the Trump administration had decided to lift an Obama-era ban on importing elephant hunting trophies from Africa. After facing intense public outcry from all across the political spectrum, however, the president took to Twitter to announce that he had reversed course and was placing the "big game trophy decision on hold until such time as I review all conservation facts."
Put big game trophy decision on hold until such time as I review all conservation facts. Under study for years. Will update soon with Secretary Zinke. Thank you!

— Donald J. Trump (@realDonaldTrump) November 18, 2017
Following this tweet, many took to Twitter to thank the president for keeping the ban in place. Two of them who offered up praise — Greta Van Susteren and Piers Morgan — were retweeted by the president.
BOOM! Thank you, Mr President. Trophy-hunting is repellent. https://t.co/iEPfEQNX4t

— Piers Morgan (@piersmorgan) November 18, 2017
Thank you @realDonaldTrump – this is important to so many of us https://t.co/zJAfZByQKX

— Greta Van Susteren (@greta) November 18, 2017
Meanwhile, other Blue Check Twitter folks tossed out reactions that ranged from thanking Trump for doing the right thing to highlighting that it was the public pressure that forced POTUS to maintain the ban.
The best decision from Trump after making his worst decision Trump reverses elephant trophy decision post public outcry https://t.co/El6S2Qjrjf via @MailOnline Was it right in the first place to repeal a law based around the ugly habits of his ignorant compassionless sons?

— Peter Egan (@PeterEgan6) November 18, 2017
You did it.
Our voices have been heard! Keep howling. https://t.co/POK0yoLcNU

— NY Wolf Center (@nywolforg) November 18, 2017
Thank you, President Trump!https://t.co/MfFFW1fsZo

— Michael Savage (@ASavageNation) November 18, 2017
Donald Trump Puts Elephant Trophy Decision 'On Hold' Following Backlash From #TheResistance

Bigly news for wildlife. #AMJoy #Resisthttps://t.co/qEAXGB1c1f

— Scott Dworkin (@funder) November 18, 2017
Trump is delaying this for now. Keep the pressure on. https://t.co/791l2XIO4s

— Amy Siskind (@Amy_Siskind) November 18, 2017
I for one am thrilled that Trump caved on removing the ban on African Elephant trophies. Anyone who wants a trophy for killing one of these animals is a soulless monster. pic.twitter.com/ESsWEplohp

— Josh Jordan (@NumbersMuncher) November 18, 2017
After a massive public uproar, Trump folds and decides to keep the Obama-era ban on importing elephant trophies…at least for now. https://t.co/SF0bu1z8BA

— Jon Cooper (@joncoopertweets) November 18, 2017
Trump suspends imports of elephant trophies from Zimbabwe & Zambia pending review. A step towards sanity? #BeKindToElephants #WorthMoreAlive #BanTrophyHunting ?
https://t.co/aupKF3Enkt pic.twitter.com/nj0U8iDqAU

— Born Free Foundation (@BornFreeFDN) November 18, 2017
[image via screengrab]
—
Follow Justin Baragona on Twitter: @justinbaragona
Have a tip we should know? tips@mediaite.com