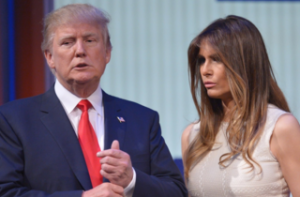 Yesterday and the day before, news outlets were breathlessly reporting that a recent poll showed that 73% of female voters have an "unfavorable" view of Donald Trump. Plenty of women have backed that up in public, but he and his supporters have doubled down.
Today, he took to Twitter to defend how pro-woman he is:
"@Tytan01: Dear @CNN, after doing a quick Google & Twitter search there are over 15,000 women's groups supporting DonaldTrump. Stop Lying."

— Donald J. Trump (@realDonaldTrump) March 26, 2016
"@pattiandsammi: @gullakhta99 @realDonaldTrump @Tytan01 @CNN WOMEN LOVE TRUMP. TRUMP'S EXECS PREDOMINANTLY FEMALE. #WOMEN4TRUMP"

— Donald J. Trump (@realDonaldTrump) March 26, 2016
The media is so after me on women Wow, this is a tough business. Nobody has more respect for women than Donald Trump!

— Donald J. Trump (@realDonaldTrump) March 26, 2016
The first claim, that 15,000 women's groups support the mogul in his bid for the presidency and anyone can learn that by Googling, is unverified. I tried a number of Google search terms like "women's groups support Trump" and "Trump women vote" and "Women for Trump" and what I got, for the most part, was articles about Trump's "woman problem."
That woman problem could stem from his attacks on women's looks. He joked about Carly Fiorina's face last fall and this week, he retweeted a cruel meme about Heidi Cruz's. Maybe the woman problem comes from his public feud with Megyn Kelly, during which he has repeatedly insinuated that she is a bimbo, called her crazy, and suggested she was hormonal. That feud began when she asked him to defend his practice of routinely insulting women he doesn't like. Maybe the woman problem has something to do with his vow to defund Planned Parenthood. Maybe the woman problem dates back to his infamous cheating in the 1980s and 1990s or the allegations of spousal rape leveled at him by Ivana Trump. Perhaps it has something to do with the time he tried to launch a show about making over "tramps,"
The tweet about Trump putting women in positions of authority is true, though. His daughter, Ivanka Trump, whom he has joked about sleeping with a number of times, is a high-ranking official in his company. There is also Katrina Pierson, his spokesperson, who has had a short but dramatic career with the Trump campaign.
[image via screengrab]
For more from Lindsey, follow her on Twitter.
Have a tip we should know? tips@mediaite.com