Trump Offers Art of the Deal in Fundraising Email After Author Called Him 'Sociopath'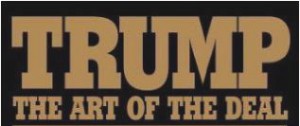 In a fundraising email sent to supporters Tuesday, Donald Trump solicited donations by touting signed copies of the 1987 tome The Art of the Deal.
This despite the fact that the book's ghostwriter (and credited co-author) Tony Schwartz broke his silence earlier this month in an interview in The New Yorker, and claimed that the book was "full of falsehoods." Schwartz added that Trump himself was a "sociopath."
Schwartz told ABC News that Trump was "a man who has more sociopathic tendencies than any candidate in my adult life that I've observed. And so, yeah, I do regret writing the book."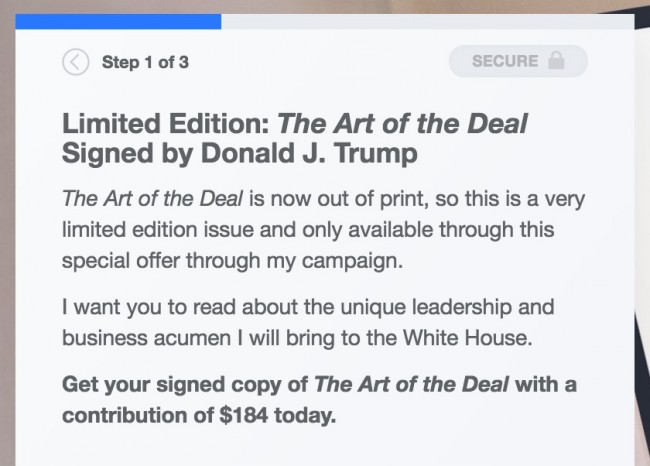 Curiously, Trump's email and website also says that "The Art of the Deal is now out of print, so this is a very limited edition issue and only available through this special offer through my campaign." In fact the book was reissued in paperback just last October.
"In 18 months of following Trump around, I cannot remember any acts of care or generosity, unless to promote himself," Schwartz said in a recent tweet.
Schwartz responded to the news with a brief tweet:
@thericeman No shame.

— Tony Schwartz (@tonyschwartz) August 2, 2016
In any event, a signed copy of the book Schwartz brought into the world is yours for a mere $184.
UPDATE—08/03:
Trump selling copies of Art of the Deal for $184 to raise money for campaign. Isn't worth paper it's printed on. I should know: I wrote it.

— Tony Schwartz (@tonyschwartz) August 2, 2016

—
Sam Reisman (@thericeman) is a staff editor at Mediaite.
Have a tip we should know? tips@mediaite.com