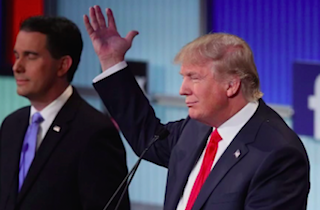 In the first moments of Fox News' GOP debate earlier this month, Donald Trump was the only candidate on the stage would not vow to support the eventual nominee of the Republican Party, leaving the door open for an third-party campaign should he fail to secure the nomination.
Now, The Huffington Post is reporting — in their Entertainment section, of course — that Trump has told "several top Republicans" that he has decided to rule out that possibility and commit himself fully to the GOP. Reporters Sam Stein and Ryan Grim cite "several sources" who were privy to the private conversations between Trump and party leaders.
Trump spokesperson Michael Cohen told the reporters, "It is my personal belief that the RNC is treating Mr. Trump the same as the other candidates, and he will live up to his agreement not to run as an independent." But he also added, "Only Mr. Trump can sign that oath. And when he does, you can rest assured, he will live by it."
Prior to the first debate, Trump managed to reverse position on the prospect of an Independent run within the span of one day, first saying he would "absolutely" consider it and then saying that his "total focus is to run as a Republican and to win."
Given that a third-party run would all but assure a victory for the Democratic candidate according to most analyses, RNC chairman Reince Priebus has warned Trump not to go down that road.
UPDATE — 6:20 p.m. ET: Hugh Hewitt asked Trump about The Huffington Post story on his radio show Wednesday evening. Trump said that ruling out a third-party run is "not something" he would want to do at this time.
Listen to audio below, via The Hugh Hewitt Show:
[Photo via Facebook]
— —
>> Follow Matt Wilstein (@TheMattWilstein) on Twitter
Have a tip we should know? tips@mediaite.com