Trump Says Russia Will Be 'Rewarded' For Hack, But Pence Promises 'Serious Consequences'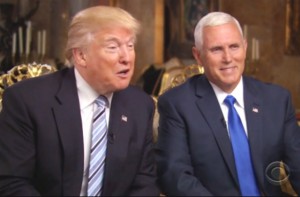 In a bit of mixed messaging, Donald Trump promised mighty rewards to Russia in exchange for interfering in the election, while his VP pick promised "serious consequences."
At a press conference Wednesday morning Trump encouraged Russia to release State Department emails in order to injure Hillary Clinton's campaign. "I think you will probably be rewarded mightily by our press," he said.
Shortly afterward, his Vice Presidential nominee, Indian Gov. Mike Pence issued a statement saying that, rather than rewards, there would be "serious consequences" to Russia if it was behind the hack of the DNC emails released to the public last Friday. (Experts believe that Russia is responsible.)
Pence's statement reads in full:
The FBI will get to the bottom of who is behind the hacking. If it is Russia and they are interfering in our elections, I can assure you both parties and the United States government will ensure there are serious consequences. That said, the Democrats singularly focusing on who might be behind it and not addressing the basic fact that they've been exposed as a party who not only rigs the government, but rigs elections while literally accepting cash for federal appointments is outrageous. The American people now have absolute and further proof of the corruption that exists around Hillary Clinton. It should disqualify her from office, if the media did their job. [emphasis added]
Not backing down, Trump tweeted, "If Russia or any other country or person has Hillary Clinton's 33,000 illegally deleted emails, perhaps they should share them with the FBI!"
Jake Sullivan, senior advisor to the Clinton campaign, responded in a statement:
This has to be the first time that a major presidential candidate has actively encouraged a foreign power to conduct espionage against his political opponent. That's not hyperbole, those are just the facts. This has gone from being a matter of curiosity, and a matter of politics, to being a national security issue.
—
Sam Reisman (@thericeman) is a staff editor at Mediaite.
Have a tip we should know? tips@mediaite.com