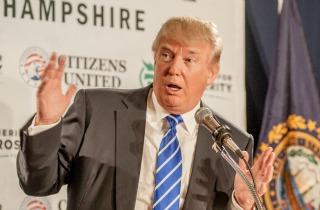 Republican presidential frontrunner Donald Trump called on his fellow 2016 hopefuls to return all "dark money" donations to super PACs supporting their candidacies, and formally disavowed nine super PACs that are supporting his White House bid.
"I am self-funding my campaign and therefore I will not be controlled by the donors, special interests and lobbyists who have corrupted our politics and politicians for far too long," Trump said in a Friday morning press release. "I have disavowed all Super PAC's, requested the return of all donations made to said PAC's, and I am calling on all Presidential candidates to do the same."
Trump, who has sat atop the GOP primary field for months now, sent letters to each of the super PACs in order to "disavow all fundraising activities based on the confusion said PAC's could potentially cause with supporters across the country," the campaign said.
According to the Trump campaign, each letter stated:
"We are providing this written notice that your organization is not authorized to use Mr. Trump's name and likeness in connection with its fundraising activities, and we are formally disavowing such activities. Thus, given the invocation of Donald J. Trump in connection with your activities, we ask that you refund all funds received by you in connection with any fundraising undertaken to specifically support and/or done in the name of Donald J. Trump…The campaign has never received money from your PAC, nor does the campaign want any money, services or goods from your committee."
The move is not a surprising one for Trump, who is largely self-funding his campaign and routinely rails against the "donor class perpetuating a broke Washington, D.C. and the all talk, no action politicians propped up by donations representing corporate interests."
[Image via Shutterstock]
— —
>>Follow Andrew Desiderio (@desiderioDC) on Twitter
Have a tip we should know? [email protected]