Trump Tower Transition Meetings Continue Today With Rick Perry, Mary Fallin, and… Tulsi Gabbard?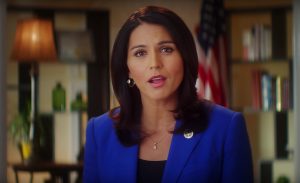 After a dizzying weekend that saw the President-elect of the United States meet with nearly two dozen people in Bedminster, New Jersey, the transition period continues Monday back in New York City.
Donald Trump has plans to meet with a number of people on Monday in Trump Tower as his administration continues to take shape. Last week ended with a number of controversial selections, including Alabama Senator Jeff Sessions, who was named the new Attorney General, and retired lieutenant General Michael Flynn who Trump tapped to serve as National Security Advisor.
Trump however threw a flash grenade of distraction by picking a fight with the Broadway show Hamilton over Twitter instead.
But as per the press pool, Trump's guests Monday include former Texas Governor (and brief Republican rival) Rick Perry as well as former House Speaker Newt Gingrich. Oklahoma Governor Mary Fallin will also be one of the guests meeting with Trump Monday, as will Elaine Chao, President George W. Bush's Secretary of Labor.
And here's a curveball to the schedule: Hawaii Congresswoman and Iraqi war vet — and former Bernie Sanders surrogate — Tulsi Gabbard.
Gabbard, a Democrat, was one of the most vocal supporters for the Democratic Socialist from Vermont during the primary months, often noting that it was Sanders (not Hillary Clinton) whose approach to foreign affairs would ensure an end to interventionist regime changes. Congresswoman Gabbard announced in August that she would be voting for Clinton in the general election.
However, as her hometown Maui Time was quick to point out recently, Gabbard curiously did not join in with 169 of her colleagues to express concern over the new administration's hiring of Steve Bannon. A possible explanation of the seemingly bizarre connection could be found in this recent column for The Hill by Jonathan Swan, who wrote that Bannon,"…is a big fan of Rep. Tulsi Gabbard, the Hawaii Democrat who frustrates progressives due to her more right-leaning stances on guns, refugees and Islamic extremism."
Have a tip we should know? tips@mediaite.com