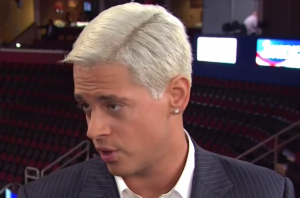 A lecture by controversial Breitbart editor and "alt-right" personality Milo Yiannopoulos at Canterbury's Simon Langton Grammar School for Boys was shut down after pressure from the United Kingdom's Department of Education.
Yiannopoulos is an alumnus of Langston, but was expelled for what he has characterized as "absolutely outrageous behavior." Nonetheless, the school's leadership have expressed disappointment at the cancellation, saying that opposition came entirely from outside the school.
"This decision was taken following contact from the Department For Education's counter extremism unit, the threat of demonstrations at the school by organised groups and members of the public and our overall concerns for the security of the school site and the safety of our community," said head teacher Matthew Baxter in a statement.
Those opposed to the event noted Yiannopoulos' history of offensive and outrageous comments about women and minorities, and his subsequent ban from Twitter. School officials stressed that they were preparing students to confront ideas and statements they found offensive, and that they "trust that our students will be able to use their reason to assail bad arguments and applaud sound ones."
"The staff and students of the school were overwhelmingly in favour [of the lecture]," Baxter continued. "While disappointed that both the pastoral care and intellectual preparation we offer to our students has been called into question, we at the Langton remain committed to the principle of free speech and open debate and will resist, where possible, all forms of censorship."
[Image via screengrab]
—
>>Follow Alex Griswold (@HashtagGriswold) on Twitter
Have a tip we should know? tips@mediaite.com