Trump Volunteers Have to Promise Never to Insult Him for the Rest of Their Lives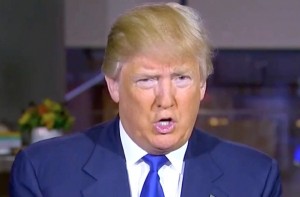 Donald Trump fans have to sign a contract promising to never insult the candidate for the rest of their lives if they want to volunteer for the campaign's phone bank.
NBC reported last week that Trump was making some volunteers to sign non-disclosure agreements before they were allowed to help the campaign. "In a Thursday email inviting supporters for phone-banking at Trump Tower, the campaign tells supporters to attend a briefing and then 'sign your NDA' before volunteering begins," they reported.
On Tuesday, The Daily Dot got their hands on the actual contract in question. In order to work at the Manhattan phone bank, volunteers must:
…promise and agree not to demean or disparage publicly the Company, Mr. Trump, any Trump Company, any Family Member, or any Family Member Company or any asset any of the foregoing own, or product or service any of the foregoing offer, in each case by or in any of the Restricted Means and Contexts and to prevent your employees from doing so.
Another part of the contract states that volunteers are forbidden from volunteering for any presidential candidate other than Donald Trump. The Daily Dot points out that neither stipulation has a cut-off date, meaning the restrictions theoretically last for the remainder of the volunteer's life.
The good news is that experts believe those provisions are almost certainly unconstitutional and would not be enforceable. "I guess [Trump] doesn't know about the First Amendment," one lawyer told them.
[Image via screengrab]
——
>>Follow Alex Griswold (@HashtagGriswold) on Twitter
Have a tip we should know? tips@mediaite.com