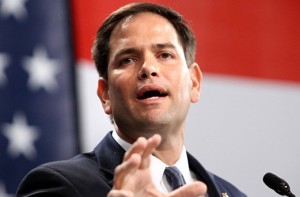 After a weekend marred by violent protests and Republicans partly blaming Donald Trump for it, Marco Rubio indicated in an interview yesterday he's unsure that he can support Trump as the nominee.
He spoke with The Guardian and delivered some of his most anti-Trump sentiments to date, with some particularly harsh words reserved for supposed conservatives who have thrown in with the brash billionaire.
Rubio warned that the GOP will end up "in the wilderness… if we're the party of fear, with a candidate who basically is trying to prey upon people's fears to get them to vote for them."
He thinks Trump is an "embarrassment" making America look bad on the world stage, and the violence at Trump's rallies––which Rubio roundly condemned––caused Rubio to actually back away from his strong pledge to support the eventual nominee:
He referred at times to the violent clashes that erupted at recent Trump rallies over the weekend, likening them to "third world images" that posed a threat to the republic. The impact of the scenes was such that Rubio, for the first time, said he no longer knew if he could commit to backing Trump as the Republican nominee.
And given how much Rubio can't stand Trump, he of course had some tough words for the supposed conservative pundits who have chosen to get behind Trump despite his not-so-conservative positions and self-confessed "flexibility" on important issues:
"You have all kinds of people that are lifelong conservatives, or at least claim to be, who don't seem to care that Donald Trump has never been and is not now a conservative on principles," he said. "And they've staked their reputation on their support of him…

"These are people that – whether it's now or five years from now or two years from now or six months from now – are going to be explaining for a long time how they fell into this."
You can read the full Guardian interview here.
[image via Shutterstock]
— —
Follow Josh Feldman on Twitter: @feldmaniac
Have a tip we should know? tips@mediaite.com
Josh Feldman - Senior Editor