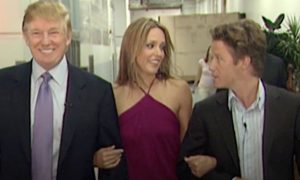 As you've heard by now, today's big Donald Trump revelation was some late-afternoon audio leakage from the Washington Post. The Republican nominee was heard commenting to Billy Bush about his attempts to seduce a married woman. The conversation happened months after he married Melania Trump, his third wife.
Trump has issued an apology for the leaked audio, which includes him revealing that when he sees a beautiful woman, he just kisses her and does not wait. He also claimed that "when you're a star, they let you do it. You can do anything" and insulted a married woman who wouldn't sleep with him by making fun of her "phony tits." Also worth mentioning is his advice to Bush, which included, "Grab them by the pussy." Again, he insisted, "you can do anything."
Here is that apology:

Somehow, he dragged Bill Clinton into the mess, which is strange, since Clinton is neither running for President nor someone who was even present during the conversation, which was recorded in 2005.
People have taken note of the buck-passing.
If Trump is telling the truth in his statement, then voters should consider not voting for him or Bill Clinton.

— Christian Turner (@christor) October 7, 2016
@brianstelter @PhilipRucker Bill Clinton isn't running for president.

— Omnivore Books (@omnivorebooks) October 7, 2016
@ZekeJMiller OK, I won't vote for Bill.

— Jim Bachman (@jebmke) October 7, 2016
@ZekeJMiller @Lizzs_Lockeroom Did he forget Bill Clinton isn't running again???

— PhenomenalWoman (@1nePhenomenalMe) October 7, 2016
@ZekeJMiller @realDonaldTrump, "locker room banter" isn't an excuse to treat women as objects. How does @KellyannePolls defend this clown?

— Paul lummis (@Lummis83) October 7, 2016
So, in summary, Trump apologizes by saying Bill Clinton is worse. Only an imbecile would buy that.

— Bob Levine (@idguy) October 7, 2016
New Donald Trump slogan" Forgive me Father for I have sinned, But actually it was really Bill & Hillary Clinton's fault ". always is! #msnbc

— Faubush (@faubush) October 7, 2016
Exactly @BostonJerry: Trump got called out for lewd comments & his response was "Bill Clinton has said worse!" He is less mature than an…

— Harris McCarris (@DiggerMancusi) October 7, 2016
It's Bill Clinton's fault that Donald Trump got caught on tape making lewd and disgusting remarks on women.

— Kelly Scaletta (@KellyScaletta) October 7, 2016
@agearan but…..Bill Clinton said worse? He's not running for President, Trump is.

— Becky White (@white3884) October 7, 2016
Trump: Whatever, "sorry." Clinton's worse. pic.twitter.com/LItl0sofFD

— Melissa Pamer (@mpamer) October 7, 2016
It is reminiscent of Fox News Channel's Jesse Watters' apology from the other day. His segment on the political leanings of inhabitants of Manhattan's Chinatown was widely criticized as racist, so he apologized "if anyone found offense." Trump's statement similarly says, "I apologize if anyone was offended."
The Trump statement is the exact same as the Wikipedia example of a "non-apology apology." pic.twitter.com/w1Oae9pfE2

— Cody Boteler (@codyboteler) October 7, 2016
This isn't looking good.
You know it's bad news when the Trump campaign email subject is just "STATEMENT FROM DONALD J. TRUMP."

— Emily Flitter (@FlitterOnFraud) October 7, 2016
UPDATE — 7:26 p.m. ET:
Bush has issued a statement about his involvement in the Trump conversation.
UPDATE –– 12:21 a.m. ET: Trump has apologized. Watch the video here.
[image via screengrab]
Have a tip we should know? tips@mediaite.com