'Trump's Silence is Even More Telling': Paper Blasts POTUS Over Non-Response to Kansas Shooting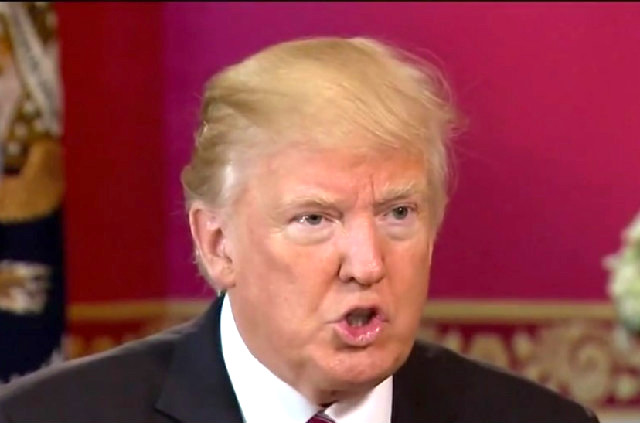 It has now been almost a week since Adam Purinton shot and killed Srinivas Kuchitobla at a Kansas bar, likely due to him being a foreigner. (Kuchitobla was born in India.) Purinton also shot and injured two others in the bar: Kuchitobla's friend Alok Madasani, also from India, and Ian Grillot, a bar patron who attempted to intervene. Purinton was heard using racial slurs and yelled out "get out of my country" before the shooting.
While quite a bit of attention — both national and worldwide — has been directed to this tragic incident, President Donald Trump has been noticeably silent. And one newspaper's editorial board has noticed.
In an editorial published in the Kansas City Star, the president was taken to task for not speaking out on the shooting. The board, highlighting that at some point being late with a response "begins to verge on something more disquieting," took issue with Trump neither reaching out to Kuchiobla's widow or hailing Grillot for his heroic actions.
Trump has offered no words of condolence for the grieving widow of Srinivas Kuchibhotla, who died from his gunshot wounds.

The president has expressed no sympathy for Kuchibhotla's best friend, Alok Madasani, who continues to recover from bullet wounds and the trauma.

Trump usually loves to celebrate all-American heroes. But he's passed on commending Ian Grillot, a bystander who leapt to take the gunman down before anyone else was harmed. Grillot was shot, too.
Pointing out that former Democratic presidential nominee Hillary Clinton has publicly commented on the tragedy while also goading Trump on his silence, the board also made note that White House press secretary Sean Spicer briefly mentioned the shooting during his briefing on Monday. However, they also highlighted that Spicer shut down any connection between Trump's anti-immigrant rhetoric and the murder.
Wondering if the president will address the tragedy in tonight's speech before a joint session of Congress, the editorial concluded with the following sentence: "Because with each passing day, Trump's silence is even more telling."
[image via screengrab]
——
Follow Justin Baragona on Twitter: @justinbaragona
Have a tip we should know? tips@mediaite.com