Trump's Statement Siding With Saudi Arabia on Khashoggi Murder Draws Confusion, Outrage: 'Full of Lies'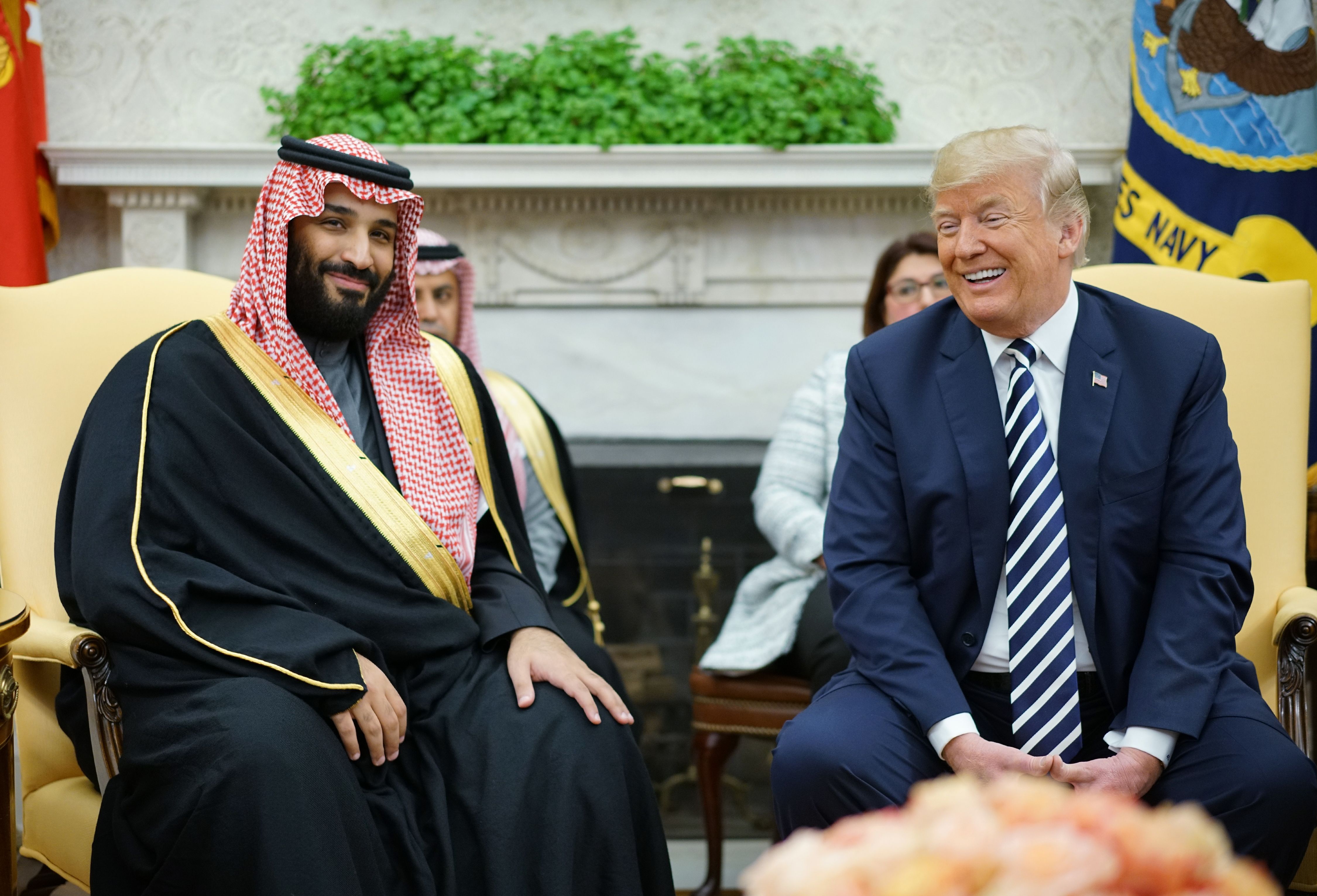 Political observers are apoplectic over the news that President Donald Trump and his administration have sided squarely with Saudi Arabia on Jamal Khashoggi's death.
Even though the U.S. intelligence community has reportedly seen evidence that the Saudi royal family was directly responsible for Khashoggi's murder and dismemberment inside their government's Turkish consulate, the White House has issued a press release saying Trump will stand with Saudi Arabia in spite of that.
There's a lot going on in the factually-challenged statement, but so far, people have especially taken notice of how Trump deflects by pointing to Iran's international wrongdoing, calls the Saudis a "great ally," repeats their smears of Khashoggi as an "enemy of the state," and concludes by declaring "America First!"
The takeaway for many Twitter users is that Trump will do nothing to punish Saudi Arabia for Khashoggi's death. There's already an online avalanche of critics lambasting the president for basically shrugging at the autocratic murder of a journalist.
Trump's message to the world: If you're going to murder a journalist and dismember his corpse, sign some contracts with Raytheon first. https://t.co/hUrLINgC2c

— Matt Ford (@fordm) November 20, 2018
The era of American global leadership is over. It's done. The President's statement is a classless disgrace.

We now sacrifice our values for temporary investments from other countries. https://t.co/XM54H1mFn6

— Bradley P. Moss (@BradMossEsq) November 20, 2018
One of the most bizarre White House statements I've ever seen. But bottom line is this: Trump Sides with Saudi Arabia over CIA conclusion that Crown Prince MBS ordered the hit. "Maybe he did, maybe he didn't." https://t.co/3AJtzzkCW4

— Greg Miller (@gregpmiller) November 20, 2018
Imagine being tortured and dismembered and then having the president of the country that is supposed to hold your killers accountable instead repeat their smears against you while he gives them a pass.

That's what just happened.

— Aaron Blake (@AaronBlake) November 20, 2018
Lots of pardoning going on at the White House today.

— Philip Bump (@pbump) November 20, 2018
Since Mr. Trump excels in dishonesty, it is now up to members of Congress to obtain & declassify the CIA findings on Jamal Khashoggi's death. No one in Saudi Arabia—most especially the Crown Prince—should escape accountability for such a heinous act. https://t.co/exQrZKybhk

— John O. Brennan (@JohnBrennan) November 20, 2018
PRESIDENT TRUMP PARDONS A TURKEY. I think this is one case where the comedians can just let the headline speak for itself.

— Dan Rather (@DanRather) November 20, 2018
What the everliving fuck pic.twitter.com/pbhKfFKS9D

— Olivia Nuzzi (@Olivianuzzi) November 20, 2018
Too many bizarre and depraved sentences in here to count, but "maybe he did, maybe he didn't!" takes the cake. https://t.co/B3sEcqAygs

— Trevor Timm (@trevortimm) November 20, 2018
President Trump's refusal to accept the CIA's assessment that MBS not only knew about but ORDERED the assassination of #Khashoggi is a betrayal of the American intelligence community and yet another clear indicator of his disdain for freedom of the press. https://t.co/cgWWkvKFnG

— Carolyn B. Maloney (@RepMaloney) November 20, 2018
This is, without a doubt, the most uninformed, imbecilic, toady, poorly-written, categorically untrue statement I have ever seen from a president of the United States. A complete disgrace. https://t.co/9eqoWFeroX

— Joe Cirincione (@Cirincione) November 20, 2018
Trump's statement on Saudi Arabia + #Khashoggi is full of lies and a blatant disregard for his own intelligence agencies.

It also shows an unforgivable disregard for the lives of Saudis who dare criticize the regime.

This is a new low.https://t.co/mMELjLico8

— Karen Attiah (@KarenAttiah) November 20, 2018
You can tell from the abundant falsehoods and exaggerations, the exclamation points and above all, from the sly slander against Jamal Khashoggi that @realDonaldTrump wrote this one himself https://t.co/qE5Mp5YamG via @whitehouse

— Jackson Diehl (@JacksonDiehl) November 20, 2018
[Image via Getty]
— —
>> Follow Ken Meyer (@KenMeyer91) on Twitter
Have a tip we should know? tips@mediaite.com