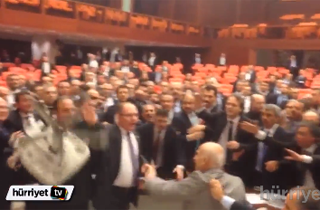 Dozens of Turkish lawmakers got into an intense brawl during the first day of debate over a homeland security bill, with people throwing office chairs and gavels, leaving five people seriously injured.
According to the Hurriyet Daily News, the fight, which took place in a close session of Parliament, broke out along party lines, with the opposition party members accusing the majority party of "bullying." The bill, which would grant police increased powers to break up demonstrations, caused the minority parties to fear that it was a "step to legitimize state terror," and that "its legislation would usher in a new dark era for Turkey."
Hence the swivel chair-throwing. Reports Hurriyet:
CHP and HDP parliamentary groups held separate press conferences on Feb. 18 to condemn the violence at the hands of the AKP group and accused the ruling party "drawing the first blood even before the legislation of the security bill."

"Twenty AKP lawmakers attacked me. [AKP MP] Oktay Saral and his friends were like bodyguards," Musa Çam, who was seriously wounded in the fight, told daily Hürriyet. Çam said he sustained a fracture to his rib and was planning to file a criminal complaint after seeing the medical report to be issued by the hospital. Kürkçü described the incident as an attempt to lynch opposition lawmakers, stressing that the General Assembly had never witnessed such violence.
In our list of crazy parliamentary brawls, we'll have to rank it second behind the one in Ukraine where protestors ended up throwing a legislator in a dumpster.
Watch below via Hurriyet TV:
[Hurriyet Daily News]
[Image via screenshot]
—
>> Follow Tina Nguyen (@Tina_Nguyen) on Twitter
Have a tip we should know? tips@mediaite.com