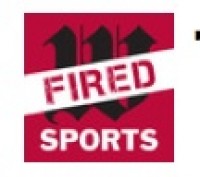 The Washington, D.C. area is about to become a one-newspaper sports town with the demise of the Washington Times' sports section, announced Dec. 30 by the conservative paper's top brass. The Unification Church-run paper slashed 40 percent of its staff and will focus on national news and politics, while shuttering its Sunday edition.
While the writers may be out of a job, they haven't quit tweeting about the end of an era at the paper.
RT @SI_PeterKing RIP @TWTSports. We have got to find David Elfin a job. He is one of the best beat men in America, covering any sport.

#10yearsago we had a sports section. Some decade.

Teams that won: Unification Church RT @dcsportsbog Teams that lost their last home game with TWT beat writer: Skins, Caps, Wiz, Terps BB, FB

RT matthewsbunch Looks like @washtimes killed the most respectable section of its newspaper. Au revoir, @TWTsports.
The future is unclear for most of the sports writers, as Washington Nationals beat writer Ben Goessling said in his own goodbye. There was also this from his colleague, Mark Zuckerman, who said "Hopefully, by the time Opening Day 2010 rolls around, I'll be stationed somewhere in the press box at Nationals Park. Maybe a few seats down the row. Maybe tucked away in the far, rear corner. Maybe not there at all."
The end of the WT sports section also brought out the best in their cross-town rivals, the sports folks at the Washington Post. Dan Steinberg at WaPo's Sports Bog explains all the reasons he is going to miss his competition, which covered things like lacrosse, combat sports, sports media and the business of sports in ways WaPo doesn't. He also lamented the said reality of what happens when a newspaper loses its competition.
Aside from the general lament about so many good people losing their jobs in such a shoddy way, the worst thing about this news is that it hurts D.C. as a sports town. Sports towns have rollicking media contingents, packs of beat writers, inter-paper feuds and all the rest. They have columnists with rival sport-talk shows on at the same time, and they have beat writers whispering covertly into cell phones while talking to editors, and they have hurt feelings and back-stabbings, and they have drunken group dart games after playoff wins during midwestern road trips.

Sure, bloggers are rapidly filling in the holes, and the Examiner does a lot with a small staff, and various Web sites are beefing up their coverage, but that's no substitute for being a genuine two-paper town, with multiple full-time beat writers covering every team.
Have a tip we should know? tips@mediaite.com