Twitter Blows Up Over John Kelly's White House Press Briefing on Fallen Soldiers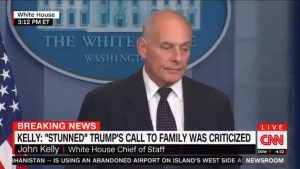 To hopefully top off what has been an uncomfortably politicized issue surrounding honoring fallen soldiers, White House Chief Of Staff John Kelly took to the podium at the White House press briefing today to share his feelings and to defend President Donald Trump's comments.
Over the course of the briefing, Kelly claimed that he was "stunned" and "broken-hearted" after he learned that Congresswoman Frederica Wilson was listening in while Trump's called the widow of Sgt. La David Johnson.
"Blue Check Twitter" from all-sides chimed in on this. Reactions ranged all the way from near-contempt for Kelly to glowing praise of Kelly's emotional briefing.
To the tweets!:
Kelly isnt just an enabler of Trump. He's a believer in him. That makes him as odious as the rest. Dont be distracted by the uniform.

— Brian Fallon (@brianefallon) October 19, 2017
Just landed and thanks to spotty wifi, just learning that Trump sent General Kelly out to use his son's death to defend Trump. Unreal.

— Joy Reid (@JoyAnnReid) October 19, 2017
General John Kelly is making many of you look very foolhardy right now. I'm sure those apologies will roll out in 3….2…1…

— Jesse Kelly (@JesseKellyDC) October 19, 2017
John Kelly is going after the "member of Congress" who "listened in"… imma bet he's gonna side-step that the Gold Star mother was enraged…

— Asawin Suebsaeng (@swin24) October 19, 2017
This John Kelly statement is the most gripping spokesman duty I've seen all year.

— David Martosko (@dmartosko) October 19, 2017
I hope every member of the media who is criticizing @realDonaldTrump for calling to console a Gold Star family is watching John Kelly.

— Sean Parnell (@SeanParnellUSA) October 19, 2017
I keep telling y'all about John Kelly. He signed up to make Trump's craziness look less crazy. That make Kelly himself VERY dangerous…

— Charles M. Blow (@CharlesMBlow) October 19, 2017
When will John Kelly stop being seen as a respected general and start being seen as an enabler?

— Peter Henderson (@Henderburn) October 19, 2017
Getting emotional listening to Gen John Kelly talking about his son who was lost in combat. Kelly is a special man, we need more of him.

— Abby Huntsman (@HuntsmanAbby) October 19, 2017
Gen. John Kelly is out there cashing in ALLLL of his credibility in service to Trump.

Hope it's worth it.

— Britni Danielle (@BritniDWrites) October 19, 2017
Have a tip we should know? tips@mediaite.com