Twitter Came Through With Some Grade A Snark After Rams Coach Jeff Fisher Was Fired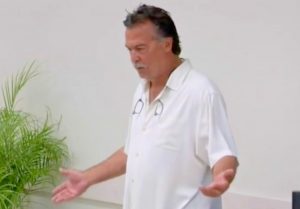 "I'm not fucking going 7-9," a defiant Jeff Fisher said during this past season's edition of HBO's Hard Knocks, which featured the Los Angeles Rams.
He was right.
Fisher, who'd had four consecutive losing seasons as head coach of the Rams, became assured of a fifth on Sunday with the team's humiliating 42-14 home loss against Atlanta, which dropped their record to 4-9. Early Monday, Fisher was fired — just one week after signing a multi-year contract extension.
Fans on Twitter quickly piled on, as Fisher has long been an object of social media derision. Here's what fans, journalists, and other observers had to say following Fisher's dismissal:
This Fisher firing is like that scene in Goodfellas, when Tommy thinks m he's been made. Then, he isn't.

— Marc Carig (@MarcCarig) December 12, 2016
"I'm not fucking going 7-9 or 8-8 or 9-7." Welp, technically he was right. #JeffFisher #LARams @richeisen @nflnetwork @joe_depaolo pic.twitter.com/Dk2DsW1TOg

— J.D. Durkin (@jiveDurkey) December 12, 2016
Jeff Fisher was an overpaid moving company to the Rams. They were hoping he wouldn't damage the furniture. He did. Now he's gone. #fisher

— Linda Cohn (@lindacohn) December 12, 2016
@sportspickle Jeff Fisher was informed of the decision earlier today, some time between 7-9.

— D McGill (@dmcgill11) December 12, 2016
REPORT: The Rams don't know who will be the interim coach, but are confident having no coach at all is a definite upgrade from Jeff Fisher

— NOTSportsCenter (@NOTSportsCenter) December 12, 2016
Congratulations to Jeff Fisher on getting the Jacksonville Jaguars job next month.

— SportsPickle (@sportspickle) December 12, 2016
Jeff Fisher is such a bad coach the Rams are giving him $8 million to NOT coach.

— The Fake ESPN (@TheFakeESPN) December 12, 2016
BREAKING: Jeff Fisher has been fired by the Rams. This shatters Fisher's dream of having the most losses of any coach in NFL history.

— Fake SportsCenter (@FakeSportsCentr) December 12, 2016
Jeff Fisher got fired on his day off and will now collect millions to do nothing all day. I believe that's called living the American dream.

— Scott Stump (@Scott_Stump) December 12, 2016
@sportspickle shouldn't there be a "Trump nominates Jeff Fisher as Secretary of Defense" joke lined up here

— Brendan (@brendanlowbrow) December 12, 2016
@dmcgill11 @sportspickle I bet there's going to be around 7 to 9 teams interested in him coaching for them this offseason.

— Da Saybz (@dasaybz) December 12, 2016
football Twitter on Jeff Fisher right now pic.twitter.com/0VjwtuKdPQ

— Hector Diaz (@iamHectorDiaz) December 12, 2016
#Rams: We are giving Jeff Fisher a contract extension

Rams to Rams: Sign it and fire him in a week pic.twitter.com/kffgyKowfS

— Glenn Moore (@GlennMooreCLE) December 12, 2016

[image via screengrab]
–
Follow Joe DePaolo (@joe_depaolo) on Twitter
Have a tip we should know? tips@mediaite.com
Joe DePaolo - Senior Editor