Twitter Explodes Over Trump Attack on Sitting Republican Congressman's Sex Scandal: 'HE NUKED HIM'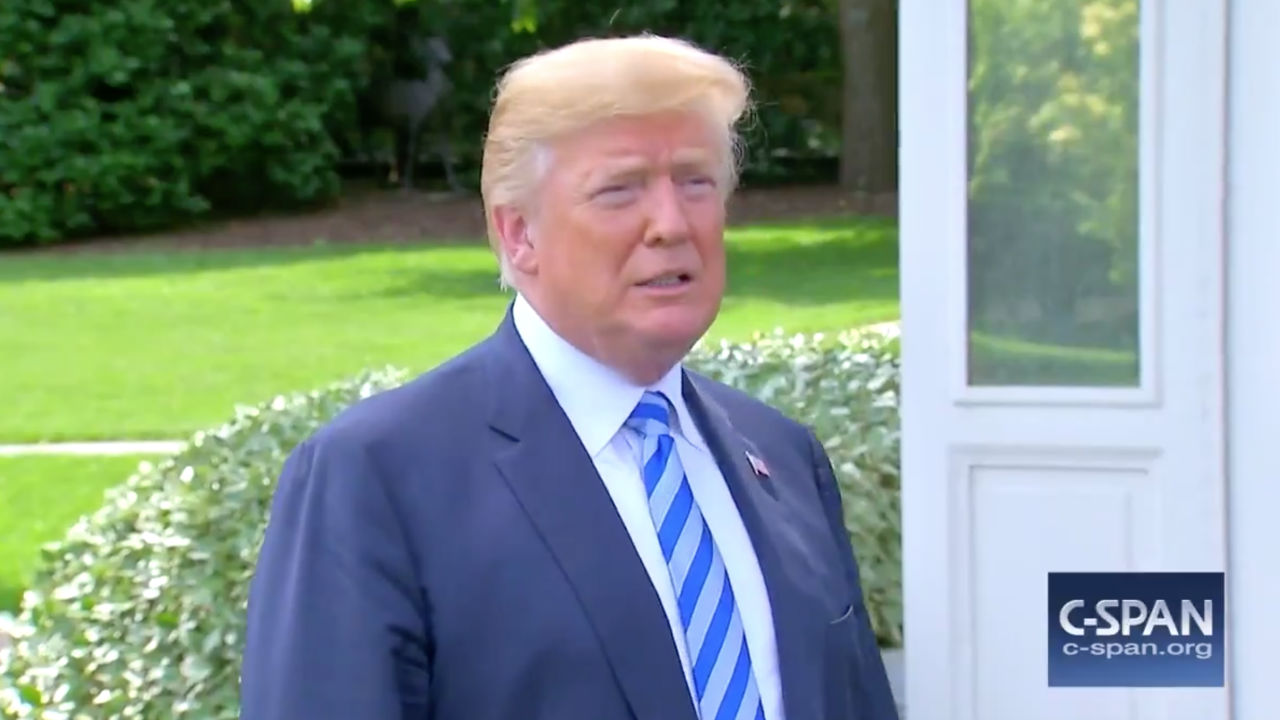 Hours before voting ends in a key South Carolina Congressional primary, President Donald Trump bashed one of its candidates, Rep. Mark Sanford (R-SC), dredging up his decade-old affair with an Argentinian journalist in a tweet advocating for his challenger, conservative Katie Arrington.
Mark Sanford has been very unhelpful to me in my campaign to MAGA. He is MIA and nothing but trouble. He is better off in Argentina. I fully endorse Katie Arrington for Congress in SC, a state I love. She is tough on crime and will continue our fight to lower taxes. VOTE Katie!

— Donald J. Trump (@realDonaldTrump) June 12, 2018
Reactions ranged from shock to amusement, many noting that the president waited until the last moment to launch his attacks on Sanford, making it hard to see the political upside of such a petulant move.
with 3 hours left to vote! https://t.co/hc9evBrqg7

— David Wright (@DavidWright_CNN) June 12, 2018
HE NUKED HIM https://t.co/duwCVAsKb4

— Allahpundit (@allahpundit) June 12, 2018
holy smokes https://t.co/OBYEQfDFIJ

— Josh Dawsey (@jdawsey1) June 12, 2018
There are a lot of reasons this is odd but the main one from a political standpoint is that voting has begun and the effect of any endorsement is minimal at best. https://t.co/BdBV7lsqvf

— Philip Bump (@pbump) June 12, 2018
Most of Congress would be better off in Argentina

— Seth Mandel (@SethAMandel) June 12, 2018
The day I published this piece (https://t.co/WtEL8r4Ltd) a White House source texted to tell me two things: 1) POTUS read it, and 2) He would not forget.

This is him not forgetting. https://t.co/thEKQ9CtBL

— Tim Alberta (@TimAlberta) June 12, 2018
Whoa, this is major. Trump is endorsing the primary opponent of an incumbent House Freedom Caucus member.

No one from @SpeakerRyan to @NRCC Chairman @stevestivers to @freedomcaucus Chairman @RepMarkMeadows is likely to be ok with this. https://t.co/VnRvv7P55L

— Lindsey McPherson (@lindsemcpherson) June 12, 2018
Trump takes a stand against marital infidelity https://t.co/n9tmT68FtM

— Alex Griswold (@HashtagGriswold) June 12, 2018
lmao "better off in Argentina" https://t.co/M1MWNHsCCT

— Lachlan Markay (@lachlan) June 12, 2018
this is a fucking amazing tweet https://t.co/smaoe7cGti

— David Mack (@davidmackau) June 12, 2018
The fact that Trump would use an extramarital affair to bludgeon an incumbent Republican like this should put to rest any lingering doubts about whose team Trump is playing for in 2018. Not team GOP. Team DJT. https://t.co/4BvXmbJOpT

— Christina Wilkie (@christinawilkie) June 12, 2018
Trump endorses Sanford's primary challenger, just two hours and 45 minutes before the close —> https://t.co/2sSriC0iHC

— Kevin Robillard (@Robillard) June 12, 2018
Donald Trump's audacious endorsement of a challenger to a Republican incumbent comes… [checks notes] only 3 hours before the polls close #bandwagon #SC01 https://t.co/zFe6kMJ6O0

— Stephen Wolf (@PoliticsWolf) June 12, 2018
To say the least, not what you want to see on primary day https://t.co/RHlIPKopmg

— Gideon Resnick (@GideonResnick) June 12, 2018
Try to remember the last time a sitting President actively campaigned against an incumbent member of his own party https://t.co/3vJvEoUwwY

— Ben Jacobs (@Bencjacobs) June 12, 2018
oh wow https://t.co/vVU2fTKTWf

— Kyle Blaine (@kyletblaine) June 12, 2018
This endorsement would probably have been more helpful had it been issued you know say before 4pm on the day of an election in a state where the polls close at 7pm. Still amazing though. https://t.co/Dq6mEQHPd2

— (((Harry Enten))) (@ForecasterEnten) June 12, 2018
Ummmm…. STFU. https://t.co/ZnHSzjUPgE

— Morgan J. Freeman (@mjfree) June 12, 2018
Trump's remarks were made in reference to Sanford's 2009 affair with María Belén Chapur, an Argentinian journalist whom he disappeared to see in June of that year — despite claiming to be hiking in the Appalachian mountains.
[Image via screengrab]
Have a tip we should know? [email protected]