Twitter Goes Nuts After 13 Russian Nationals Indicted For Election Meddling: 'It's Mueller Time'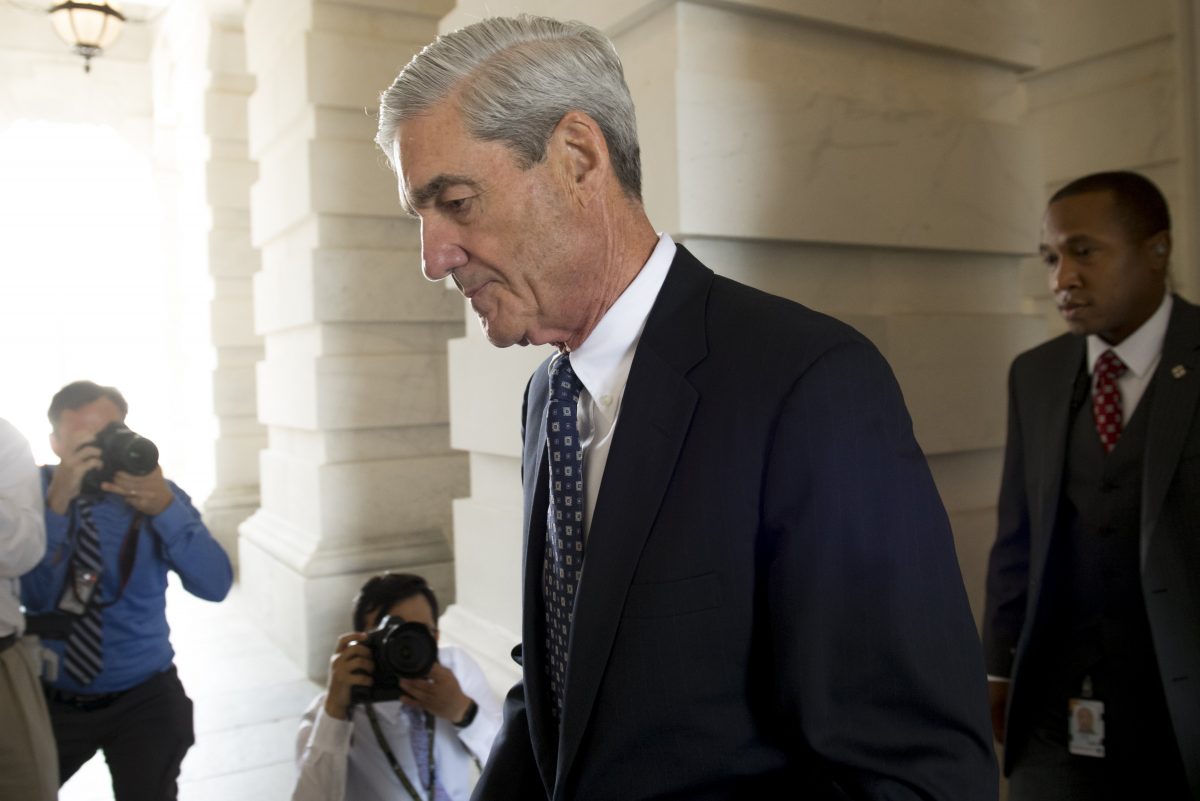 On a day chockful of major news, Special Counsel Robert Mueller dropped an absolute bombshell as the DOJ brought charges against 13 Russian nationals and three Russian entities for meddling in the 2016 presidential election.
Based on the 37-page federal indictment, it is alleged that the Russians impersonated American people, created false identities and stole the identities of others. It also notes that the goal was to damage Democratic nominee Hillary Clinton's campaign while helping then-candidate and now-President Donald Trump.
Based on these blockbuster charges that essentially state that the intelligence community was right all along and that Russian election interference is not a "hoax," as the president has claimed, it is no surprise that the internet went absolutely wild over this news.
Here's just a sampling of the reactions on Twitter:
As we process 37-page federal indictment against 13 Russian nationals for interfering with U.S. election, remember that Trump views it as "a hoax" made up by Democrats. He has not acted to safeguard US democracy from future foreign intrusions.

— Philip Rucker (@PhilipRucker) February 16, 2018
Today's indictment of 13 Russian nationals will make it impossible for the president to claim there was no meddling in the 2016 election.

— Shermichael (@Shermichael_) February 16, 2018
Huge. Mueller indictment states the Russian defendants' operations were "supporting the presidential campaign of them-candidate Donald J. Trump."

— Ari Melber (@AriMelber) February 16, 2018
Mueller's indictment puts it plainly: "Defendants' operations included supporting the presidential campaign of then-candidate Donald J. Trump ("Trump Campaign") and disparaging Hillary Clinton." pic.twitter.com/VJZb2zolb4

— Sahil Kapur (@sahilkapur) February 16, 2018
Less than two weeks ago, Trump tweeted of Mueller's investigation: "This is an American disgrace!" Also called it a "witch hunt."https://t.co/RdjelN8Le2

— Rebecca Ballhaus (@rebeccaballhaus) February 16, 2018
Jesus. Mueller's indictment says the accused Russians tried to suppress minority turnout: pic.twitter.com/FCkicyOGRl

— Greg Sargent (@ThePlumLineGS) February 16, 2018
Robert Mueller's nothingburger witch-hunt has or will secure guilty pleas from 3 Trump advisors, has indicted a fourth, and will now issue indictments for 13 Russians and 3 Russian "entities."

— Noah Rothman (@NoahCRothman) February 16, 2018
Mueller is rolling this out sequentially in a deliberate manner. Show he has the receipts on Russian interference and scare the hell out of everyone in Trump's orbit. Time to make your plea deal.

— Topher Spiro (@TopherSpiro) February 16, 2018
One thing here is there were zero leaks about this indictment.

A lot of folks have a tendency to express excessive confidence that they know what's going on with Mueller's investigation.

— Matthew Yglesias (@mattyglesias) February 16, 2018
It's Mueller time. https://t.co/As92JunrVK

— Ryan J. Reilly ? (@ryanjreilly) February 16, 2018
Remember when @seanhannity and friends were calling for Mueller to shut down his probe? Mueller just indicted 13 Russians for interfering in our election.

— Bradley P. Moss (@BradMossEsq) February 16, 2018
Whatever comes of it, Mueller has already done far more to punish the Russians for their election interference than the Trump White House

— Sam Stein (@samstein) February 16, 2018
How did you like infrastructure week?

— Josh Dawsey (@jdawsey1) February 16, 2018
There's someone sitting on their bed who weighs 400 pounds who is breathing a sigh of relief right now

— Ben Jacobs (@Bencjacobs) February 16, 2018
[image via Getty Images]
—
Follow Justin Baragona on Twitter: @justinbaragona
Have a tip we should know? [email protected]