Robert Mueller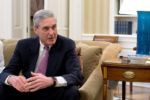 Robert Mueller III is an American government official and lawyer who served as the 6th director of the FBI from 2001 to 2013. Mueller served as the special counsel for the U.S. Department of Justice. He had to oversee the investigation into Russian interference in the Trump campaign and any other matters that arose from the investigation. In March of 2019, Mueller finished the investigation and submitted the Mueller Report. He stepped down as special counsel at the end of May 2019 and testified in front of Congress on July 24, 2019.
Robert Mueller Q&A
Who appointed Robert Mueller as special counsel?
Deputy Attorney General Rod Rosenstein appointed Mueller, a former FBI director, to take over the FBI's work.
What are the steps of impeachment?
First, an impeachment resolution must be introduced by a member of the House of Representatives. The speaker then has the U.S. House Committee on the Judiciary (or a special committee) hold a hearing on the resolution to decide whether to put the resolution to a vote by the full chamber. A simple majority of the Judiciary Committee must approve the resolution. If the Judiciary Committee approves the resolution, it moves to a full vote on the House floor. If a simple majority of those present and voting in the House approve an article of impeachment, then the president is impeached. Then it goes to the Senate where a trial is held to decide if the president committed a crime and the chief justice of the Supreme Court presides over the trial. The Senate votes, and takes a two-thirds vote of the Senate to convict. If the president is found guilty, he is removed from office and the vice president is sworn-in as president.
Robert Mueller Noteworthy Stories
July 24, 2019
Fox News says Mueller looks frail at his congressional testimony.
March 24, 2019
Rep. Nadler says Mueller findings are not total exoneration.
Latest Robert Mueller Stories