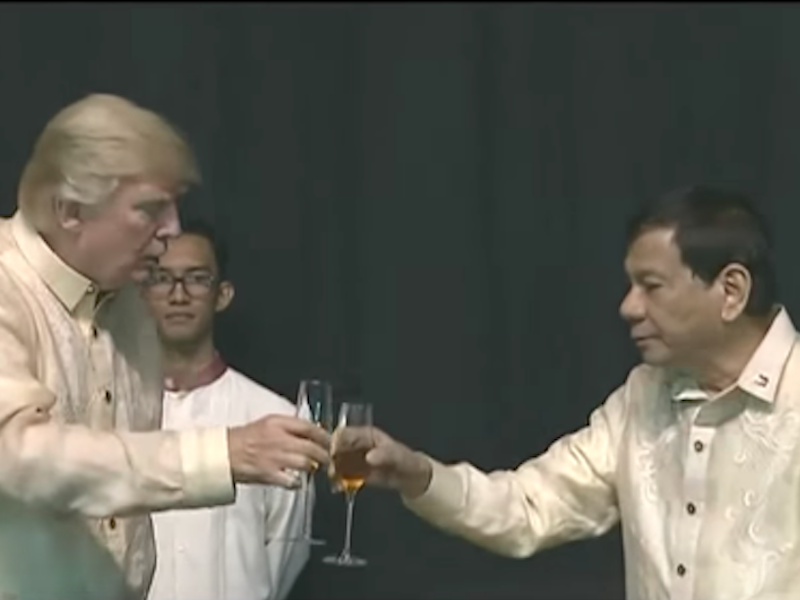 President Donald Trump's tumultuous relationship with the Fourth Estate is common knowledge. The president has been hurling invectives at the press ever since he descended down that dark escalator so many moons ago.
Trump has insinuated that he would take legal action against members of the media. He's trapped them in pens at political rallies, directing his supporters to boo and taunt them. He's consistently threatened retaliation against media entities that are not "nice to him" and has said that "it is frankly disgusting the press is able to write whatever it wants to write."
The president, for all of his bluster, doesn't even get close to the venom the President of the Philippines, Rodrigo Duterte, regularly spits.
Duterte, whose authoritarian leanings are well documented, showed no remorse when two members of the press were killed last year.
"Just because you're a journalist, you are not exempted from assassination if you're a son of a bitch," he said. "Freedom of expression cannot help you if you have done something wrong."
As a matter of fact, the Philippines is considered one of most dangerous place in the world for journalists, with deaths and injuries occurring with alarming regularity.
So, of course, Trump gave a good, hearty laugh when Duterte insulted the media during their meeting.
Duterte called members of the press "spies" and made sure to elaborate that he wasn't joking. "You are," he repeated after Trump laughed.
"This signifies the end of our open session. I would like to request media to leave us alone." Duterte curtly added. "You may leave the room."
Trump's meet-and-greet with Duterte, who has bragged about killing people, failed to go over well with folks on Twitter.
Trump laughs as the leader of the Philippines, where 177 journalists have been killed, attack the press https://t.co/ed6MTA2SLR pic.twitter.com/33bdsgLfaZ

— Judd Legum (@JuddLegum) November 13, 2017
Trump laughs as the butcher of the Philippines calls reporters "spies." https://t.co/gRsCPno1jo

— Steve Silberman (@stevesilberman) November 13, 2017
Trump and Duterte having a laugh about how journalists are *spies" "Hah, hah, hah" pic.twitter.com/6DjpIZznRc

— Gabriel Snyder (@gabrielsnyder) November 13, 2017
Trump visited the Philippines as part of his whirlwind tour of Asia. He told gathered reporters that the two have a "great relationship," with Duterte quite literally singing a song called "You Are the Light" to the American leader.
[image via screengrab]
—
Follow Lawrence Bonk (@sidescrollers) on Twitter
Have a tip we should know? tips@mediaite.com