Twitter Has a Field Day After Carter Page's House Testimony In Russia Probe Is Released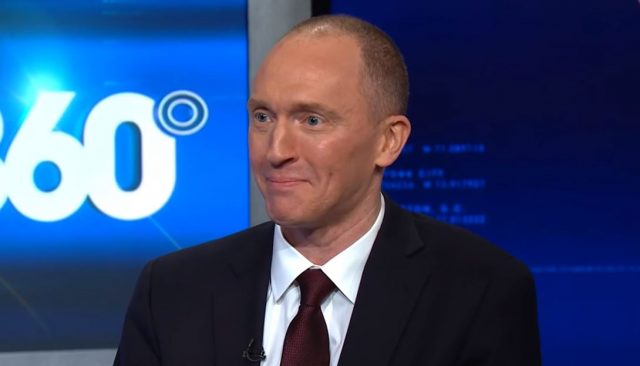 This evening, the House Intelligence Committee released the testimony given in a closed-door hearing by former Trump campaign advisor Carter Page last week. The interview with the committee was related to the ongoing investigation into Russian election meddling and whether or not the Trump campaign colluded with Russian officials.
Prior to the release of the 200+ page transcript, we had already been given reports that Page's testimony included some juicy tidbits such as revelations that he met with Russian officials during a trip to Moscow and he informed Jeff Sessions about the trip during the campaign. Page also told CNN's Jake Tapper that he told a "few people" about his Russia trip.
Of course, considering that Page met with the Intel Committee for seven hours, it was a given that we'd get some more details. And did we ever! One thing Page told the lawmakers is he raised the idea of then-candidate Donald Trump visiting Russia during the campaign, likening it to Barack Obama's Germany trip in 2008.
As folks flipped through the dozens of pages of testimony this evening, we got tons of reaction to what they found in the transcript.
Trey Gowdy asked Carter Page if he ever communicated with Donald Trump via Snapchat pic.twitter.com/uI20kpxx04

— Josh Billinson (@jbillinson) November 7, 2017
Adam Schiff Asking Carter Page Whether He's Invoking The Fifth Amendment Is Something Else. pic.twitter.com/aNchV7MnTG

— Chris Geidner (@chrisgeidner) November 7, 2017
we are fortunate in this industry to have characters like Carter Page.

thank you, Carter, for being you.

— Sam Stein (@samstein) November 7, 2017
Carter Page's HSPCI testimony is why you shouldn't even sneeze at the state without a lawyer pic.twitter.com/ZGByO5YaT3

— Matt Ford (@fordm) November 7, 2017
Carter Page on why he went to Russia even if it might not be a great idea: "Because I was trying to live my life" https://t.co/MI8M2rtM6R pic.twitter.com/eEF5FEPheW

— Amanda Terkel (@aterkel) November 7, 2017
Carter Page's House Intel testimony shows Russians paid for his Moscow travel in 2016, when he was a Trump advisor. They know an easy mark.

— Ned Price (@nedprice) November 7, 2017
Breaking: #CarterPage sought input from Trump campaign on his 2016 Moscow speech, sent readout to campaign after -Intel Cmte testimony

— Jim Sciutto (@jimsciutto) November 7, 2017
Q: So, like, why did you go to Moscow, Dr. Page?
A: #YOLO #carterpage pic.twitter.com/oikGwWBSE6

— James West (@jameswest2010) November 7, 2017
Carter Page is being his own attorney. If only there was some apt legal witticism that accurately captured how foolish that is.

— Pwn ██ ██ ███ (b)(5) (@pwnallthethings) November 7, 2017
some of these interactions are just bonkers.

Carter Page apparently doesn't live anywhere. pic.twitter.com/sG3iQVKOMM

— Jesse Lehrich (@JesseLehrich) November 7, 2017
Best wishes and condolences to the reporters who are to having to produce stories out of 243 pages of Carter Page word salad tonight. https://t.co/NxXQDf8xPn

— Matthew Miller (@matthewamiller) November 7, 2017
a Carter Page has no home https://t.co/4nOIRCr1PE

— Kilgore Trout (@KT_So_It_Goes) November 7, 2017
[image via screengrab]
—
Follow Justin Baragona on Twitter: @justinbaragona
Have a tip we should know? [email protected]