Twitter is Cracking Up Over Matt Gaetz's Security Escorting Away Man Who Does NOT Think He's 'A Pedophile at All'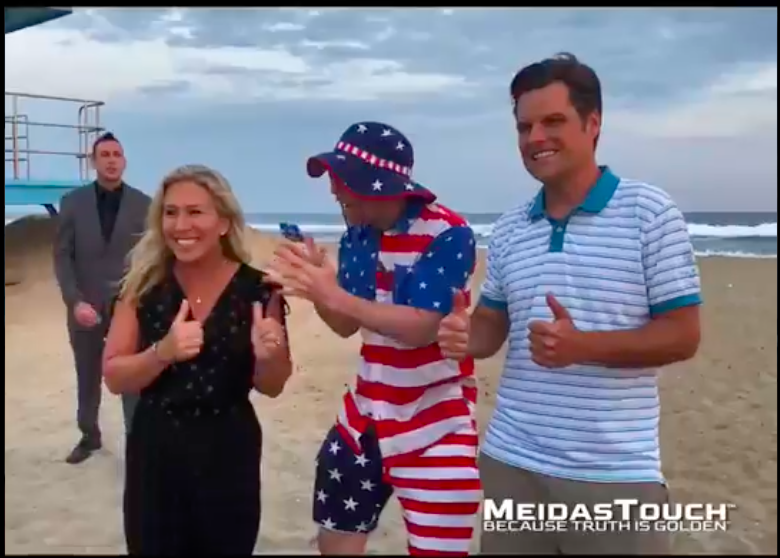 A video of Reps. Matt Gaetz (R-FL)  and Marjorie Taylor Greene (R-GA) taking a photo with a presumed supporter who tells them, "everyone thinks you're crazy, I don't think you're crazy" and "people think you're a pedophile, I don't think you're a pedophile" caused Twitter to go into a frenzy on Sunday.
The stunt, featuring comedian Walter Masterson clad in an American flag patterned shirt, shorts, shoes, and bucket hat, resulted in Masterson being ousted by security.
"Oh my god, I'm so excited! I'm so excited!" Masterson said. "Everyone thinks you're crazy, I don't think you're crazy. People think you're a pedophile, I don't think you're a pedophile at all. I don't think he's a pedophile at all."
The gag resulted in Twitter users joking that Gaetz will only taking photos with people who DO think he is a pedophile.
"Matt Gaetz will only take photos with supporters who acknowledge he is a pedophile," ribbed the anti-Trump PAC MeidasTouch, whose watermark appears on the original video.
"Will you look at that [Matt Gaetz], you do have a supporter that doesn't believe you are a pedophile," tweeted screenwriter David Weissman. "How about that?"
"OMG — the look on Matt's face when he realizes what's really happening! Priceless!" wrote another user.
"A hero walks among us," wrote actor Chris Meloni of Masterson.
Others responded to the video less humorously.
A former Florida independent congressional candidate remarked that the "ambush" wouldn't have happened if former President Donald Trump had allowed the pair of lawmakers to host their America First rally at his golf club in Los Angeles.
"He let you have an #AmericaFirst rally at city hall and didn't care enough to help his two favorite people," he added.
Eagle was referring to Gaetz and Greene having their Southern California rally canceled by three separate venues, and ultimately holding a "protest" instead since they couldn't secure a new venue in time.
One user commented that Gaetz "is not a pervert; he is a rapist, sex offender and sex trafficker."
Gaetz is currently under investigation by the Justice Department over accusations that he took part in a sex trafficking scheme that involved a 17-year-old girl. He has denied the accusations.
Have a tip we should know? tips@mediaite.com