Twitter Is Ruthlessly Mocking 'Low Energy' Trump After Exhausting Morning Show Interviews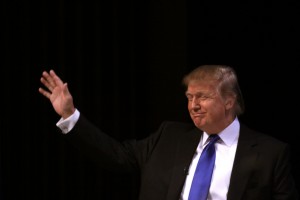 It's quite possible that Donald Trump is the happiest man in America this morning. After all, the real estate mogul went a perfect five-for-five last night in state primaries, and has put himself in striking distance of clinching the GOP nomination for President heading into Indiana. But, you may have a hard time believing all that if you simply listened to the man call into the morning shows Thursday, who sounded so exhausted that nearly every host brought the subject up.
After months of labeling former Florida Governor Jeb Bush as "low energy" and openly declaring himself to be the candidate with the most pluck, Trump trudged his way through responses this morning. MSNBC's Joe Scarborough called Trump out on it as soon as their interview began:
"Sounds like he's lying in bed," joked Mika Brzezinski to laughs from the Morning Joe set.
When Joe Scarborough jabbed, "[He's] intentionally boring!" it seemed as if Trump actually didn't even have the energy to argue back in any way. It did not take long for the Twittersphere to notice that the usually peppy frontrunner sounded audibly distressed, presumably after a long night that saw him attend both the TIME 100 Gala and then a victory event at Trump Towers.
Trump sounds very low energy calling into New Day. Sad!

— Ioana F (@ibflorea) April 27, 2016
@Morning_Joe oh, my. Trump is sounding rather LOW ENERGY this a.m.

— PirateAnnie (@TashkaTik) April 27, 2016
@msnbc @cnn Trump sounding very tired this morning, very "low energy." And it's really only just getting started.

— Grandmago (@pellett48) April 27, 2016
Trump sounds so low energy this morning, no stamina, fails the 6 am call test. So sad.

— Will (@SurlyStoic) April 27, 2016
@Morning_Joe @realDonaldTrump @SpeakerRyan trump just on cnn sounds very tired he does low energy lol

— robert kirk (@tidus232) April 27, 2016
Donald Trump sounds half asleep on the phone with Chris Cuomo. Low energy. Low stamina. Sad!

— #BurnedOff (@num1_fan) April 27, 2016
#morningjoe Trump! Sounds "LOW ENERGY" 2day! 'Wha's up w/ 'dat? Must B YOUR age. U know OLDER than HRC.

— Wiseronenow (@Wiseronenow) April 27, 2016
CNN's Brian Stelter had a bit of clarification on the Trump Train Torpor:
Trump sounding sleepy on the phone?@ChrisCuomo: "You sound pretty beat this morning."
Trump: "I'm not beat." But was up late celebrating.

— Brian Stelter (@brianstelter) April 27, 2016
Have a tip we should know? [email protected]