Twitter Left Dumbfounded After Trump's Sudden Nixing of North Korea-Related Sanctions: 'This is a Clusterf*ck'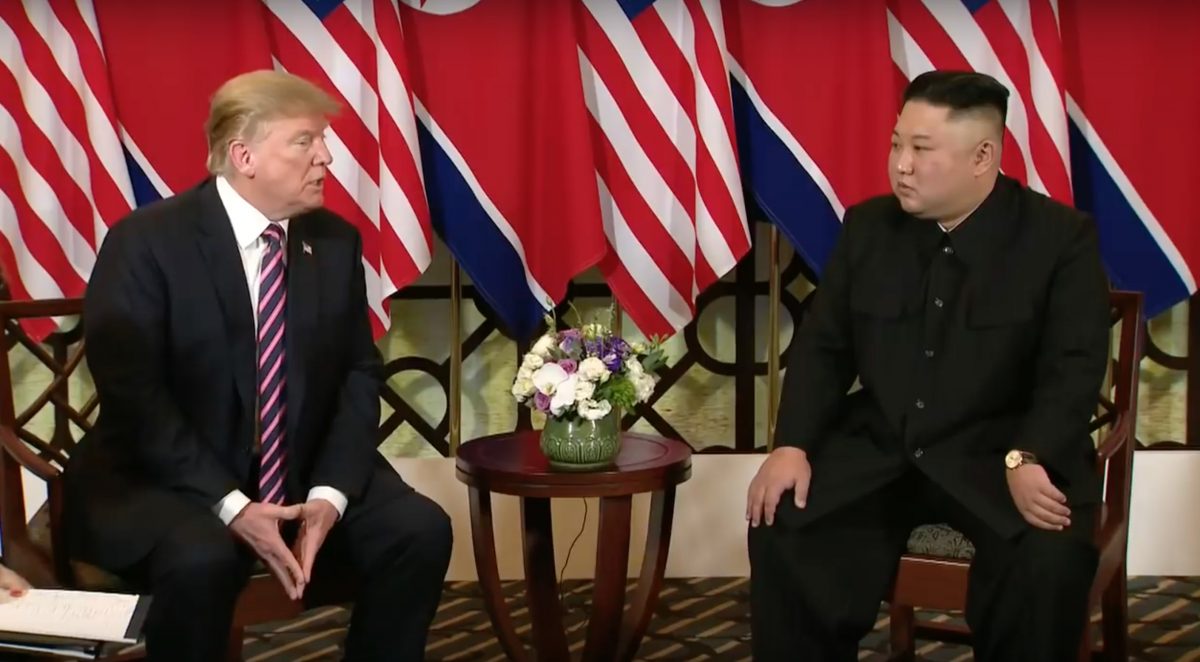 Political Twitter cranked up to 11 on Friday after President Donald Trump announced that he's lifting the sanctions his administration just enacted to put pressure on North Korea.
On Thursday, the Treasury Department announced that they would penalize two Chinese shipping companies accused of helping North Korea to get around sanctions. The announcement came shortly after Trump's failed denuclearization summit with Kim Jong Un in Vietnam.
But on Friday, the president said this.
It was announced today by the U.S. Treasury that additional large scale Sanctions would be added to those already existing Sanctions on North Korea. I have today ordered the withdrawal of those additional Sanctions!

— Donald J. Trump (@realDonaldTrump) March 22, 2019
White House Press Secretary Sarah Sanders explained the announcement by telling reporters "President Trump likes Chairman Kim and he doesn't think these sanctions will be necessary."
As usual, the Twitterverse had much to say. Some were confused about Trump's announcement, considering the Treasury Department announced sanctions against Iran Friday — not North Korea. Others noted the fact that Trump is throwing his administration's policies away via tweet. And then, there were those who were just not impressed with the news at all and didn't hesitate to make that clear:
Allow me to take a moment's break from berating a dead man to tell you how much I like Kim Jong Un.

— Chris Hayes (@chrislhayes) March 22, 2019
What stupid horses*** https://t.co/2diyNUpjGa

— Ben Shapiro (@benshapiro) March 22, 2019
Guess they weren't that important after all. https://t.co/jvTTPmDkEn

— Bradley P. Moss (@BradMossEsq) March 22, 2019
CONFUSION. Treasury hasn't announced any additional sanctions against North Korea today. It did announce new sanctions against Iran.

Yesterday, Treasury said it would punish two shipping companies for violating *existing* North Korea sanctions. https://t.co/3lS0A24PhJ

— Alex Wayne (@aawayne) March 22, 2019
Administration officials are confused about the meaning of President Trump's sanctions tweet, per @kylieatwood. The Treasury Department penalized two Chinese companies yesterday for helping NK evade sanctions, but those were neither new sanctions, nor were they announced today.

— Sarah Westwood (@sarahcwestwood) March 22, 2019
Treasury announced sanctions last night on two Chinese shipping companies allegedly helping North Korea evade sanctions. National security adviser Bolton called them "important actions." Are these what POTUS is rolling back? https://t.co/3JUQ4BpBYH

— Olivier Knox (@OKnox) March 22, 2019
in just 24 hours the secstate was surprised by Golan Heights tweet & now @realDonaldTrump has lifted new Treasury sanctions vs NK b/c he likes Chairman Kim. There is not even the pretense of a national security process. Hard to imagine what would occur if there were a real crisis

— Richard N. Haass (@RichardHaass) March 22, 2019
Nothing inspires confidence in an administration like the president suddenly and without any consultation tweeting "lol nevermind!" when Treasury officials have already formulated and announced new sanctions https://t.co/R70DviVohz

— Robert Maguire (@RobertMaguire_) March 22, 2019
Thoughts:
1) Treasury is doing things without Trump's knowledge
2) Trump ordered sanctions only to un-order them
3) Trump ordered them and changed his mind
4) Trump ordered them and then DPRK signaled something positive?
5) Trump really wants that Nobel
6) This is a clusterfuck https://t.co/jW4lMVaQ1c

— Alex Ward (@AlexWardVox) March 22, 2019
Initial sense I'm getting is this tweet caught some administration officials off guard. Bolton and administration officials made it clear that the Treasury sanctions announced yesterday should be viewed as a continuation of the ongoing pressure campaign, not as an escalation. https://t.co/bVQvddWbBf

— Zachary Cohen (@ZcohenCNN) March 22, 2019
it must be frustrating to carefully construct sanction responses only to have them reversed by a tweet. https://t.co/vNLeENTOWW

— Jessica Huseman (@JessicaHuseman) March 22, 2019
Here's what 2020 Democratic presidential contender Pete Buttigieg had to say.
The United States of America no longer has a foreign policy. https://t.co/SnMkzYadG6

— Pete Buttigieg (@PeteButtigieg) March 22, 2019
UPDATE –– 6:47 pm ET: Per the Washington Post, sources are now saying Trump was reversing "a future round of unannounced large scale sanctions expected for next week":
Sources say Trump did not withdraw the North Korea sanctions from Thursday, instead he's canceling a future round of unannounced large scale sanctions expected for next week. It was a major communications failure as a result of his ambiguous tweet

— John Hudson (@John_Hudson) March 22, 2019
— —
>> Follow Ken Meyer (@KenMeyer91) on Twitter
Have a tip we should know? [email protected]