Twitter Rails Against Norm Macdonald's Joke About 'Bruce and Caitlyn' Jenner Co-Hosting Oscars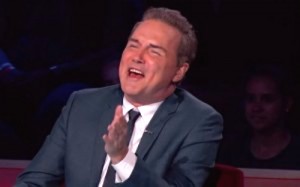 Entertainment Weekly has confirmed that the 2016 Academy Awards will most likely feature two hosts.
This isn't the first time that the Academy has decided to hand the baton to a duo during the Oscars telecast. Sometimes it works really well, like when Steve Martin and Alec Baldwin took to the stage in 2010. Sometimes not, such as the following year when James Franco and Anne Hathaway gave co-hosting a shot.
EW's Anthony Breznican suspects the showrunners have a pair in mind, and even goes as far as to suggest that Key & Peele's Keegan-Michael Key and Jordan Peele could be it.
Comedian Norm Macdonald, however, has a different theory, which he shared with his Twitter followers on Wednesday afternoon:
This year the Oscars will have two hosts. My vote is for Bruce and Caitlin.

— Norm Macdonald (@normmacdonald) September 2, 2015
Needless to say, many of Macdonald's followers (and otherwise) weren't pleased with the joke. Many obviously took offense, whereas a surprising number were less thrilled with its mediocrity. Highlights include:
@normmacdonald backlash for this in 5, 4, 3, 2… — Immortan Wok (@ManchurianWok) September 2, 2015
@normmacdonald not your best work.

— Senator_Corleone (@JimmyA_Shook1s) September 2, 2015
@normmacdonald omg a bruce jenner joke — norm has reached the george burns twilight yrs — 45 – 7 (@eomrules) September 2, 2015
@normmacdonald and heeeeere comes Gawker!

— Evan Morrison (@EvanJokes) September 2, 2015
@normmacdonald not gonna lie, just lost a good amount of respect for you.

— Clever Nickname (@Sam_J_Hodge) September 2, 2015
@normmacdonald I'm all for a good Caitlin Jenner joke, but joke-wise, you've set the bar way higher than this.

— Andy the Grifter (@Andy_Grifter) September 2, 2015
@RocketDynamo @normmacdonald It was funny, but it was also also punching down and lacked class.

— Alex Fitzpatrick (@agfitzp) September 2, 2015
@normmacdonald be quiet you Nazi Norm. How dare you make fun of Caitlin.

— stubbingtomatoes (@stubbingtomatoe) September 2, 2015
@normmacdonald Uh oh better watch it with that or you'll find yourself in internet trouble, might even get sent to Twitter jail…

— Derek (@eirdirsceol) September 2, 2015
— Planned Parenthood (@TrentTZA) September 2, 2015
@normmacdonald Caitlyn, Norm. with a Y.

— Bulletin Rob Brown (@itsbrowntown) September 2, 2015
[Image via screengrab]
— —
>> Follow Andrew Husband (@AndrewHusband) on Twitter
Have a tip we should know? tips@mediaite.com