Twitter Tears Into Trump Jr. Over Bombshell WikiLeaks Report: He 'Was Just the Coffee Boy'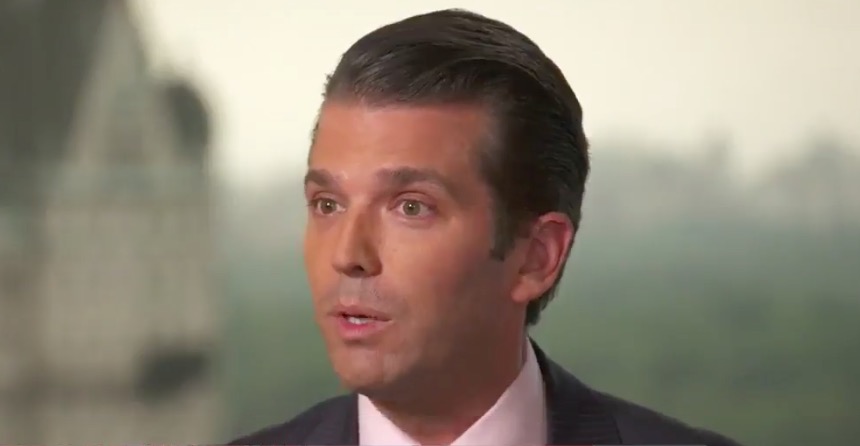 Political Twitter is going into overdrive again in response to the news that Donald Trump Jr. secretly corresponded with WikiLeaks during and after the 2016 election.
A new report from The Atlantic has details about how Trump Jr. exchanged messages with Wikileaks, and Wikileaks asked him to spread their work, dispute election results, and have his father request Australia appoint Julian Assange as ambassador to the U.S. Trump Jr. notified other campaign officials that Wikileaks contacted him, and the report suggests that the Trump scion acted upon their requests and political suggestions multiple times.
Between this news and the remaining questions about Trump Jr's meeting last year with a Kremlin lawyer, there are a lot of Twitter users who aren't very impressed with the president's son right now.
Don Jr was just the coffee boy

— Igor Bobic (@igorbobic) November 13, 2017
Wikileaks; just an impartial, non-Russian affiliated watchdog that secretly encouraged the Trump campaign to call the election rigged if he lost. You know, for journalism reasons. pic.twitter.com/5dumexEDU0

— Alex Griswold (@HashtagGriswold) November 13, 2017
<DRAMATICSQUIRREL> https://t.co/9ZRxCkyg82

— Jonathan Capehart (@CapehartJ) November 13, 2017
I bet the tweets were just about adoption or something. https://t.co/3HYxU55WQN

— John Iadarola (@johniadarola) November 13, 2017
This. Is. Not. Normal. Either. https://t.co/4oZcXGcwW8

— Ana Navarro (@ananavarro) November 13, 2017
CIA director Mike Pompeo called WikiLeaks a "non-state hostile intelligence service." They were also in direct communication with Don Trump Jr. https://t.co/HtXBGy8mjU

— David Frum (@davidfrum) November 13, 2017
Oh my. pic.twitter.com/xZ1qGuLUdL

— Bilge Ebiri (@BilgeEbiri) November 13, 2017
Wikileaks comes out looking worse than Don Jr. in this. No self-respecting "press" outlet would advise a candidate on how to contest an election.

— Sam Stein (@samstein) November 13, 2017
I wish Don Knotts lived long enough to play Don Jr in the movie.

— Mat Johnson (@mat_johnson) November 13, 2017
and to think I used to feel certain Eric would turn out to be the dumb son

— katherine krueger (@kath_krueger) November 13, 2017
This is the most Russian possible talking point. pic.twitter.com/cxnWaN937R

— Ben Collins (@oneunderscore__) November 13, 2017
Makes you wonder all the things we'd learn if anyone ever hacked Wikileaks and posted all of its emails to a searchable site https://t.co/AvmGB8mqD1

— Chris Hayes (@chrislhayes) November 13, 2017
[Image via screengrab]
— —
>> Follow Ken Meyer (@KenMeyer91) on Twitter
Have a tip we should know? [email protected]