Twitter Totally Isn't Buying Don Jr.'s Senate Testimony: 'Absurd Even For a Tragically Incurious Dolt'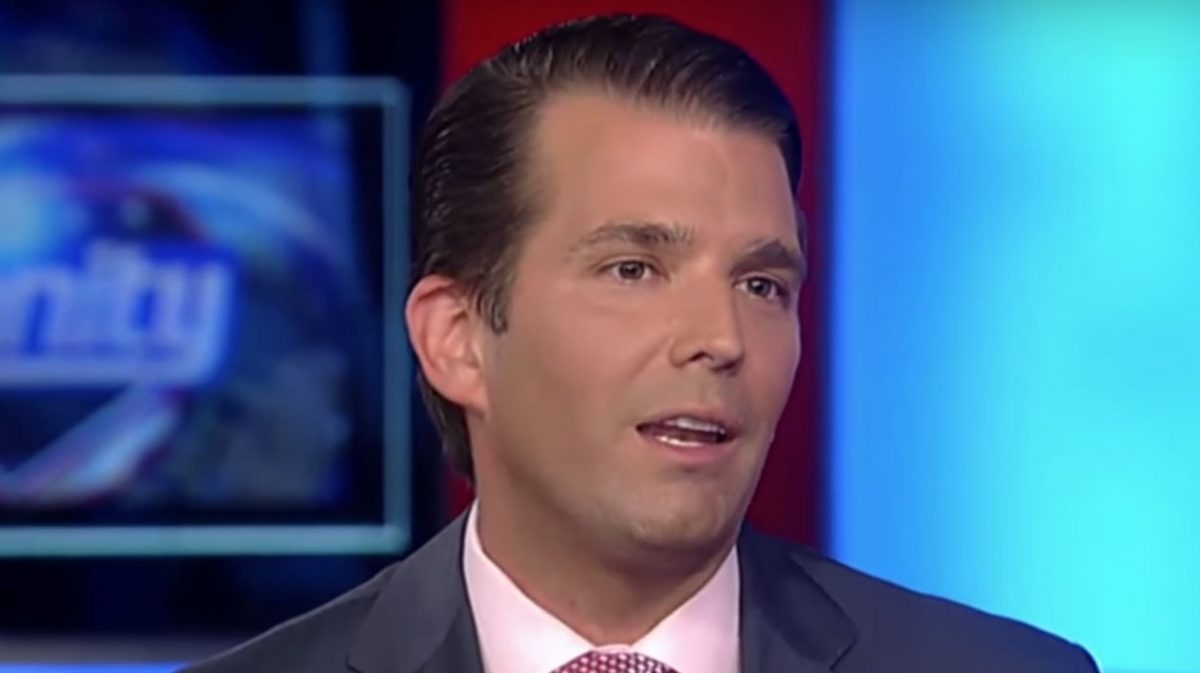 You knew the Twitterverse was going to have a lot to say now that the Senate Judiciary Committee has released their transcripts from Donald Trump Jr.'s testimony about his meeting with a Kremlin lawyer.
Senator Chuck Grassley (R-IA) released thousands of documents from the hearing where the president's son was grilled about the 2016 Trump Tower meeting where he and his father's staff met with Russian officials. The hope was that the Trump campaign would collect damaging information that could cripple Hillary Clinton's presidential campaign.
The transcript shows Trump Jr. insisting that his father didn't know about the meeting in advance, but it also includes tidbits like the part where it appears Trump Sr. played a role in drafting the false statement on why the meeting took place. Since the excerpts have already provided some interesting new information, Twitter users are taking notice and predicting that this will all create new intrigue on Russia and potential campaign collusion.
Some of you don't find this plausible. I do, because I don't think DJT Jr is that bright. https://t.co/Tfros6RXI8

— Liz Mair (@LizMair) May 16, 2018
hi just to restate the blaringly obvious but it is wildly unbelievable that the president's son, son-in-law, and campaign chief took a campaign-related meeting with foreign nationals and never once clued in Trump

— Simon Maloy (@SimonMaloy) May 16, 2018
This would be a good time to remind everyone that Trump tweeted about Hillary's emails minutes after Donald Jr's meeting with the Russians was over. https://t.co/IZRGQA5b8l

— Amy Siskind (@Amy_Siskind) May 16, 2018
Trump Jr. admitted that he "loved" getting dirt on Clinton, but when he was asked whether he also loved the Russian government's support for Trump, he said "I don't recall" and claims he didn't understand that would be problematic. Really? pic.twitter.com/9nzODalKh3

— Renato Mariotti (@renato_mariotti) May 16, 2018
That's bullshit. I know Don Jr isn't the brightest bulb, but even he would remember discussing the Russia investigation with his Dad. https://t.co/gp9eM0b8RI

— Joe Walsh (@WalshFreedom) May 16, 2018
Q: Do you know anything about Trump people meeting Russia people?
DON JR: No not at all!
Q: But it's been all over the news for months
DON JR: Okay yeah gimme a redo on that question. I read about it after the fact.
DON JR: And oh yeah I also knew they were happening at the time. pic.twitter.com/2GdEMF4S0A

— Susan Simpson (@TheViewFromLL2) May 16, 2018
this is absurd even for a tragically incurious dolt like don jr pic.twitter.com/pMTMAo83ZP

— Ashley Feinberg (@ashleyfeinberg) May 16, 2018
Pinning your hopes on Don Jr.'s discretion and candor seems a really iffy call.

— Noah Rothman (@NoahCRothman) May 16, 2018
[Image via screengrab]
— —
>> Follow Ken Meyer (@KenMeyer91) on Twitter
Have a tip we should know? tips@mediaite.com