Twitter Verifies White Supremacist Who Said Charlottesville Terror Attack Was 'Payback Time'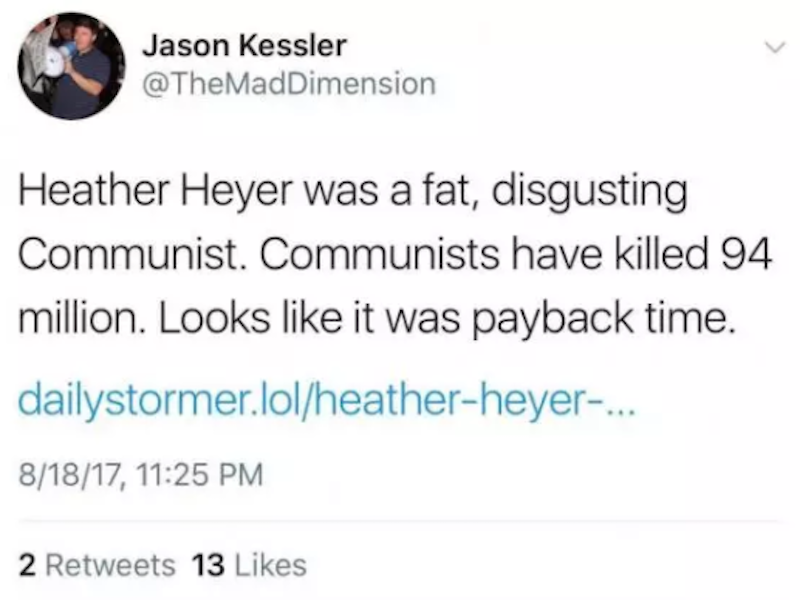 Twitter, AKA the site your therapist tells you to stop looking at so much, has developed something of a white supremacist problem.
The social media platform recently verified Jason Kessler, who organized the Charlottesville white-supremacist rally in August, in which protester Heather Heyer was killed by a rampaging vehicle.
Looks like I FINALLY got verified by Twitter. I must be the only working class white advocate with that distinction. pic.twitter.com/IMXqtmhgvn

— Jason Kessler (@TheMadDimension) November 7, 2017
Kessler once called Heyer a "fat, disgusting communist" whose death was "payback time." He now has a poll up asking whether or not it is "ok to be white."
This is the guy Twitter just verified, leading some users to ask why the company has seemed to legitimize his worldview with that blue check mark.
Kessler has tweeted that the woman killed at the Charlottesville White Supremacists protest "was a fat, disgusting Communist" and that her death "was payback time." @jack, is this what you want on your platform?https://t.co/egyZCi8GAv

— Anthony De Rosa ? (@Anthony) November 9, 2017
Getting the blue check mark is seen as a rite of passage for celebrities and media personalities. Verified users are, for better or worse, considered to be official social media influencers. Twitter, however, says differently. The company tweeted that verification is merely an acknowledgement that the person in question is who they say they are:
Verification was meant to authenticate identity & voice but it is interpreted as an endorsement or an indicator of importance. We recognize that we have created this confusion and need to resolve it. We have paused all general verifications while we work and will report back soon

— Twitter Support (@TwitterSupport) November 9, 2017
However, if that's all a blue check mark signifies, why don't more people have one? Surely it would be easy for the company to throw up one of those quizzes that asks you about where you grew up and your grandmother's maiden name or whatever. Something smells fishy.
You should start by being honest. Verification has never been about authenticating identity, has always been about choosing winners & losers

— Jamison Foser (@jamisonfoser) November 9, 2017
The sudden controversy has caused them to halt verifications altogether. Founder Jack Dorsey admitted that the "system is broken" and said that they are working on a solution, noting "We failed by not doing anything about it. Working now to fix faster."
We should've communicated faster on this (yesterday): our agents have been following our verification policy correctly, but we realized some time ago the system is broken and needs to be reconsidered. And we failed by not doing anything about it. Working now to fix faster. https://t.co/wVbfYJntHj

— jack (@jack) November 9, 2017
Incidentally, there is another Jason Kessler on Twitter with a blue check mark who would like you to know that he is just an unassuming food and travel writer, and not a white supremacist.
[image via screenshot]
—
Follow Lawrence Bonk (@sidescrollers) on Twitter
Have a tip we should know? [email protected]