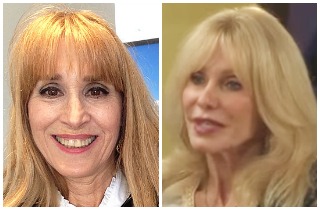 Florida woman Therese Serignese and Carla Ferrigno, the wife of actor Lou Ferrigno, have both come out in the past day accusing Bill Cosby of sexual assault.
Serignese revealed to People Magazine that back in 1976, Cosby offered her a free ticket to a show he did. Then, after the show, she was brought backstage. Cosby gave her a glass of water and two Quaaludes and told her to take them. She explained, "At that point I didn't know what to do, so I just obeyed. I just did it."
And this is what Serignese, who was one of the unnamed women in a 2006 lawsuit against Cosby, says happened next:
My next memory is I felt high; I don't remember what happened in the meantime. Then my next memory is being in that vanity room, by that big mirror, and he didn't have any clothes on, and obviously I didn't either by that point. I don't know how they got off. I don't have that memory.
She adds that she saw Cosby multiple times after that and was encouraged by her mother to call him. And Serignese "can't recall how many sexual encounters followed, or whether drugs were involved each time." She says she stopped seeing Cosby after she mentioned to him she might be pregnant and then "got sent away."
But years later, she called him again, and they had occasional contact for a few years, during one point of which Cosby had reportedly offered to "pay her $500 for every 'A' she earned." This is how Serignese details her final conversation with Cosby:
"I got off the phone, and I was crying so bad. He made me feel horrible, like I was trying to do something to him. That was not my intention. I didn't say anything, just 'You said this, you make good on it.' That's all that was said."
Meanwhile, Ferrigno revealed in a radio interview yesterday that she was at Cosby's house years ago, and after they played pool together, Cosby grabbed her, pulled her on, and kissed her on the mouth. Ferrigno said she pushed him away but he came at her again, so she pushed him and bolted.
Ferrigo said she was a teenager at the time and Cosby assaulted her while his wife was in the house.
You can listen to the audio below, via KFI AM 640:
Have a tip we should know? tips@mediaite.com
Josh Feldman - Senior Editor