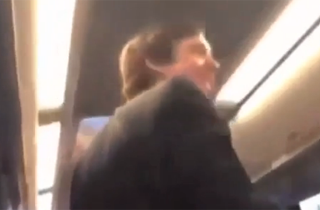 The President of the University of Oklahoma just announced that two SAE frat brothers, whose "leadership role" in starting a racist chant sparked a nationwide controversy, have been expelled from the school.
"This is to notify you that, as President of the University of Oklahoma acting in my official capacity, I have determined that you should be expelled from this university effective immediately," the letter from David Boren to the students, obtained by KFOR, read. "You will be expelled because of your leadership role in leading a racist and exclusionary chant which has created a hostile educational environment for others."
The two students pictured in the video led a chant on a bus that referenced lynching, as well as their pledge that "there would never be a nigger at SAE." The frat was subsequently booted from campus, and shut down by SAE's national office.
In a statement to the school, Boren said he was "extremely proud" of the way that the school and its alumni community had acted in response to the video. "I hope the entire nation will join us in having zero tolerance of suce racism when it rears its ugly head in other situations across our country," he added. There will be a further investigation into the students who participated in the chant, he promised.
The two students were not named.
The full statement is below:
I have acted today to expel two students who were leaders in the singing of a racist chant. See press release – DBo pic.twitter.com/VypOiVqXi7

— David Boren (@President_Boren) March 10, 2015
Watch the report from CNN, below:
UPDATE (4:30 p.m.): The Oklahoma Daily has identified one of the students as Parker Rice, a 19-year-old freshman. Rice was a 2014 graduate of the Jesuit College Preparatory School of Dallas, which confirmed in a press release that an alumnus was involved.
The Daily Mail has this side-by-side comparison of the video and a photo of Rice:
Leader of racist chant by a University of Oklahoma #SAE fraternity identified as Parker Rice http://t.co/qLscZ27JUy pic.twitter.com/tRLNCefZlT

— Auskar Surbakti (@AuskarSurbakti) March 10, 2015
Have a tip we should know? tips@mediaite.com