Univision President's Stupidity, Non-Apology to Trump Should Mean Mandatory Vacation Is in Order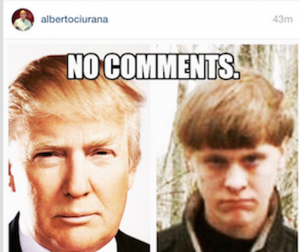 It's utterly stunning to witness allegedly-important people in today's media culture acting like it's sophomore year all over again for all the world to see. And it seemingly happens every week, all thanks to the convenient and potentially career-ending megaphone that is social media.
Exhibit A on this June Friday is Univision president Alberto Ciurana, who thought it might be really funny and stuff to re-post a photo of Donald Trump comparing him to the most hated and evil person in the country right now in the form of Dylann Storm Roof, an insane racist who only carried out mass murder of nine African-Americans in a Charleston church last week.
Prior to this patently-asinine decision that no executive should even consider regardless of reason or target, it's easy to see that Ciurana is a basically a good-natured person: He helped create Teletón México, an yearly telethon that aims to assist kids with cancer, disabilities, and autism. The money raised has led to construction of more than 20 children's rehabilitation centers in 18 states and Mexico. But now, with one emotional, public reaction and not understanding the grease fire that occurs when social media is used as a revenge tool between notable figures, Ciurana is rightly subjected to ridicule and outrage while looking like an insensitive prick in the process in using Roof as a punch-line.
But egos are more enormous than the Gulf of Mexico in this business, probably more than any other industry…even professional sports if that's possible. So instead of Ciurana apologizing to Trump, he only goes halfway while somehow still trying to justify his excuse for doing it.
"I'm Mexican [sic] who was very upset by Mr. Trump's recent comments about Mexican immigrants, but I should not have re-posted the photo," he explained on Instagram.
Regret? Yes. Apology? Not even close.
As the old saying goes, you can't kind of get a girl pregnant. You also can't kind of apologize. Acting like it was sophomore year was the way Ciurana was characterized earlier in this column. Make it freshman year. The guy simply doesn't get it. But if I'm Ciurana's boss (CEO Randy Falco), I'm giving Ciurana a mandatory time-out of one week for casting my network in such a bad light. And then I'm demanding he offer a real apology to Trump no matter how difficult that may be for him to do.
We've seen it before. We'll see it again. Adults taking a seat at the kiddie table on social media. It makes you wonder how they even got to where they are in the first place.
— —
>>Follow Joe Concha on Twitter @JoeConchaTV
Have a tip we should know? tips@mediaite.com