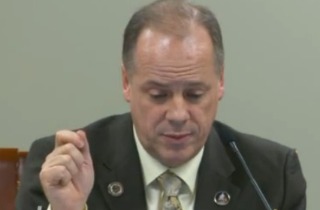 A Utah legislator apologized today after making some questionable remarks yesterday about the definition of consent and whether having sex with an unconscious person should be considered rape.
One state legislator, Democrat Angela Romero, wanted to change the wording of state law to clarify the language on consent and what is classified as rape. And sex with an unconscious person would, fairly reasonably, make the list, as it's pretty much the definition of having sex with someone without their consent.
But Republican Brian Greene said yesterday, ""I'm not trying at all to justify sexual activity with an unconscious person. It's abhorrent to me, but do we as a body a legislative body, want to make that rape in every instance?"
He didn't like the idea of a prosecutor charging a man with rape if he has sex with his unconscious wife.
Greene did end up voting for the measure (it passed unanimously), but his comments got such play online that he had to issue an apologetic statement. Here's part of what it says:
There are comments I made in a committee meeting yesterday for HB74 that have been taken out of context and have allowed my intentions to be misinterpreted. I'm sorry for any unintended pain that my statements have caused.

I abhor sexual assault under any circumstances, including within marriage. Currently, under Utah law, sex with an unconscious person without consent is rape. I was concerned about a change in statutory language that would remove the element of consent and might have some unintended consequences. I was attempting to clarify the issue through the committee's discussion.
Watch KSTU's report on Greene's original comments here:
[image via screengrab]
— —
Follow Josh Feldman on Twitter: @feldmaniac
Have a tip we should know? tips@mediaite.com
Josh Feldman - Senior Editor