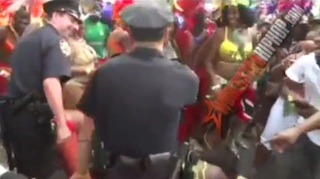 The New York Daily News is reporting that an investigation may begin into a video posted on World Star Hip Hop which shows a few NYPD officers "grinding" on scantily-clad female parade goers at this year's West Indian Day Parade in Brooklyn. A "source familiar with the paper" told the paper that, while it's not corruption, it still "looks bad."
I don't know about all of you, but, personally, I just can't get too worked up about this video. It's not like that New Mexico officer who was caught having sex on the hood of his car. These guys are just doing their job. The West Indian Day Parade is a huge, huge event and they have to be stationed there on the street throughout. The event is rowdy and fun and filled with women wearing very little who, yes, dance suggestively. If they dance up on an officer for a couple seconds while passing him at his post, who cares if he jokingly dances back?
I think it all boils down to what you want from your police. Do you want some stern automatons marching down the street like an un-smiling mix between Robocop and a Buckingham Palace Royal Guard or do you want people of authority who are also human and relatable members of the community. Yes, the dancing was sexual in nature, but that's just the tenure of the event. Shouldn't we just be happy to see video of our cities' police and the people they're protecting and serving getting along on a festive day?
I don't know. Maybe I just can't get worked up about this since I've also seen video of the horrendous shooting between police and a young man that occurred just a few blocks away that night; a shooting in which an innocent woman was killed, possibly by a stray shot from an officer. After watching that, it's hard to care much about a couple guys having a little fun on the job.
What do you all think? Watch the video below:
Have a tip we should know? tips@mediaite.com