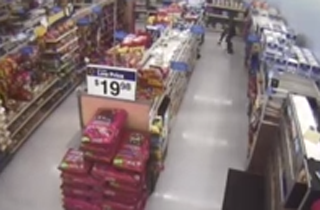 The full video of the death of John Crawford III, who was shot by police for walking around a Walmart holding a rifle BB gun, has made its way online.
In the surveillance video, Crawford appears to place the toy gun just as police begin firing at him, and attempts to run behind a shelf as he is gunned down.
Yesterday, a grand jury chose not to indict the two officers involved in the shooting. In response, Crawford's family demanded a federal investigation to determine whether race was a factor in his death: Crawford was black and the two officers were white.
In a press conference, special prosecutor Mark Piepmeier described Crawford's death as a "perfect storm of circumstances," according to the Xenia Gazette. "Mr. Crawford did not commit any crime that day," Piepmeier said. "All I can say about this case is it's a tragedy. It's a tragedy for the Crawford family. It's a tragedy for the family of Angela Williams, who died because of all the stress and commotion from this. It's also a tragedy for the police officers who have to live the rest of their lives knowing that even though they had a justified use of force, they took the life of someone that didn't need to die."
Watch below via the Xenia Gazette:

[Correction: An earlier headline suggested John Crawford dropped the toy gun before being shot by police, but the full footage seems to indicate police fired before he placed the toy on the ground.]
[Image via screenshot]
—
>> Follow Tina Nguyen (@Tina_Nguyen) on Twitter
Have a tip we should know? tips@mediaite.com