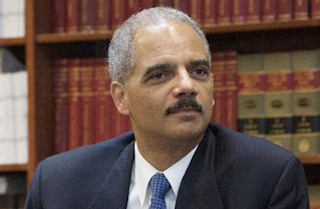 According to NPR, Attorney General Eric Holder finalized plans to resign Thursday morning, ending a long and high-profile run that saw Holder tenaciously advance civil rights causes, but also included dramatic clashes with Congress.
"Two sources familiar with the decision tell NPR that Holder, 63, intends to leave the Justice Department as soon as his successor is confirmed, a process that could run through 2014 and even into next year," NPR reported. "A former U.S. government official says Holder has been increasingly 'adamant' about his desire to leave soon for fear he otherwise could be locked in to stay for much of the rest of President Obama's second term."
With a tenure of almost six years, Holder is one of the longest serving members of Obama's cabinet. Reports earlier in the year said that Holder planned to stay "well into 2014," reports the Department of Justice denied.
Holder is known for aggressively protecting civil rights. Under his tenure the DOJ's refused to enforce the Defense of Marriage Act, an action that preceeded the Supreme Court's overturning of the law last year. Holder also sued Arizona over the anti-immigration law SB 1070, three-quarters of which was overturned by the high court.
However, the Attorney General has been a lightning rod for Republicans angry over the Fast and Furious operation, alleged IRS abuses, and the DOJ's surveillance of journalists. He has also drawn controversy for his comments about race, including a 2009 speech in which he called America "a notion of cowards" over its dealing of the legacy of racism, and his use of the Justice Department to investigate potential civil rights abuses in the Trayvon Martin killing. He most recently was dispatched to Ferguson, MO to speak on the tension between law enforcement and the African American community.
Watch a report below, via MSNBC:
[h/t NPR]
[Image via screengrab]
——
>> Follow Evan McMurry (@evanmcmurry) on Twitter
Have a tip we should know? tips@mediaite.com