Video: Papa John's Fires Two Employees After Customer Posts Racist Voicemail On Hip-Hop Site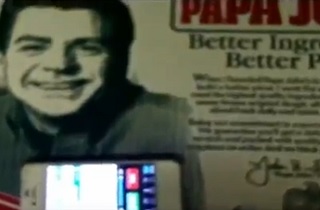 Never let it be said that racists aren't creative. A pair of Papa John's Pizza employees in Sanford, Florida have been fired after they inadvertently serenaded a black customer with a highly offensive, if musically eclectic, medley of racial slurs. Unfortunately, the duo's merrymaking was all caught on tape because the geniuses ass-dialed the customer, and left the entire opus on his voicemail, which the customer then submitted to World Star Hip-Hop for wider distribution. On Monday, Papa John's CEO John Schnatter apologized for the incident on Facebook.
The voicemail consisted, largely, of song parodies of The Barber of Seville, and Rhythm Heritage's Theme From SWAT. Here's how the affected customer described the incident, on WorldStarHipHop.com:
"This was a voicemail left on my phone by a Papa John's Pizza employee. This is highly offensive, derogatory, and ignorant. I am appalled that there were no managers or supervisors (the managers and/ supervisors may even be the ones speaking throughout the recording…who knows) from stopping this kind of conversation in the work place. Everybody has a right to their opinions, however, there is a time and place to express them. As an African-American in this community and also someone who has always tipped their Delivery Drivers 21%+, I am disgusted entirely by this conversation. Instead of focusing on "better ingredients" and "better pizza", they should prioritize "better integrity" and "better people" on the top of their 'to-do list'. Inaudible speaking- sounds like two people talking for about a minute and thirty seconds "You back??" "Yea!" "Did he tip you?" "Nope, not at all" "I guess that's the only requirement for being a Nigger in Sanford. Yea.. They give me five bucks there-fine outstanding African American gentleman of the community" (Laughs..getting closer) "Well just tip me this f***kin Nigger. I'm like singing opera all the way home. I was like. "Niggaaaa….Nigga. Nigga-ro! Nigga-ro! Niiiiiigggggggaaaaaaa-roooooooooo!" (Laughs again) …"Oh my God…" "I got another Nigger song too. It's an old one. It's an instrumental but I put words to it, and its "Nigga-nig Nigga-nig Nigga-nig (laughs again) Nigga-nig Nigga-a-Nigger! F*ckin F*ckin F*ckin a Nig-a Nigger! (Keeps going) Nigga-nig Nigga-nig Nigga-nig (laughs again) Nigga-nig Nigger-a-Nigger! F*ckin F*ckin F*ckin a Nig-a Nigger! (Keeps going, coworkers laughing) Nigga-nig Nigga-nig Nigga-nig (really laughing now) Nigga-nig Nigga-a-Nigger! F*ckin F*ckin F*ckin a Nig-a Nigger! (Finale) F*ck F*ck F*ck the Nigger! He is one real big f*cking Nigger. Sometimes you need a two person for that (everyone bursts out in laughter)."- StopRacism
It's no surprise these guys were dumb enough to leave this on voicemail, since the driver who trashes the customer for not tipping acknowledges "they gave me five bucks," which, according to the receipt shown in the video, is almost a 33% tip.
Gaby Dunn of The Daily Dot confirmed the tape's authenticity, and the firing of the two employees:
The Papa John's manager, Keith, confirmed the video is real. He said the team members involved have been fired.

"We were made aware of the video and it's under investigation," he said. "We're sorry that it happened."
On Monday, Papa John's CEO John Schnatter took to Facebook to apologize for the incident:
Friends, I am extremely concerned to learn about the reprehensible language used by two former employees in one of our restaurants. Their thinking and actions defy both my personal and the company's values, and everything for which this company stands. The employees responsible for this absolutely unacceptable behavior were immediately terminated.

My heartfelt apology goes out to the customer involved, his family, and our community at large. I am very sorry that anyone would be exposed to these hurtful and painful words by any person involved in any way with our company.

Thank you for your important comments. I have personally reached out to our customer to share my own thoughts and offer my deepest apology.
Schnatter became a somewhat polarizing figure over remarks he made about health care, and his outspoken support of Mitt Romney, but his swift and thorough reaction to this is something most folks should be able to agree on.
Have a tip we should know? tips@mediaite.com