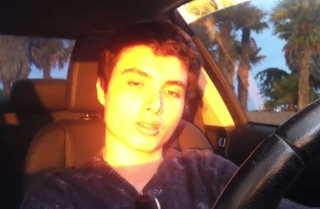 Authorities have yet to officially identify a man who went on a drive-by shooting spree that left seven people dead, including the shooter himself, in Isla Vista near UC Santa Barbara Friday evening, but according the Santa Barbara Independent, Sheriff Bill Brown said his team believes a video posted to YouTube by 22-year-old Elliot Rodger of Calabasas days earlier "appears to be connected."
In the seven-minute video, titled "Elliot Rodger's Retribution," Rodger lays out exactly why he feels so alienated and how he plans to kill to get some sort of revenge on the world. The latest, and last, video on his YouTube channel is one of many in which the young man complained about life being "unfair" and girls not finding him attractive.
"All those girls that I've desired so much, they would've all rejected me and looked down upon me as an inferior man if I ever made a sexual advance towards them while they throw themselves at these obnoxious brutes," Rodger says to the camera as he sits in his car alone. "I'll take great pleasure in slaughtering all of you. You will finally see that I am in truth the superior one the true alpha male."
"After I've annihilated every single girl in the sorority house, I'll take to the streets of Isla Vista and slay every single person I see there," he continues. "If I can't have you, girls, I will destroy you."
Based on the photo below from Rodger's Facebook page, it appears that he is with Peter Rodger, a second unit director on The Hunger Games movie series: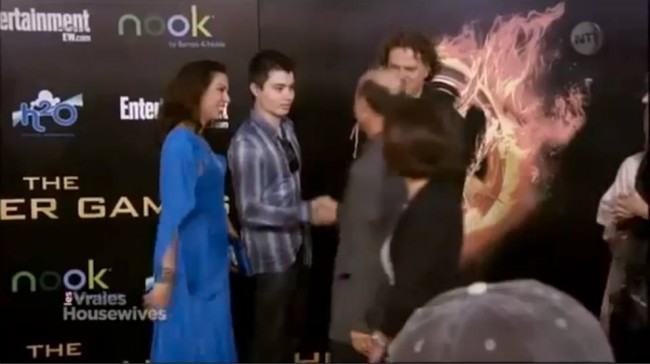 We will continue to update this story as more information becomes available.
Update — 12:50 p.m. ET: Rodger's video has been removed from YouTube, but you can still watch it below.
Watch video below, via YouTube (WARNING: disturbing language):
Watch a report on the shooting below, via CNN:
Update — 2:50 p.m. ET:
According to the Associated Press, the family of the alleged shooter recently alerted police to the disturbing videos Rodger had been posting on YouTube:
BREAKING: Family who believes son was Santa Barbara gunman told police recently about disturbing videos.

— The Associated Press (@AP) May 24, 2014
Update — 4:20 p.m. ET: CBS News is reporting the law enforcement sources have officially confirmed that Elliot Rodger was the gunman in the deadly shooting spree near UC Santa Barbara Friday night.
According to Sheriff Bill Brown, Rodger got in two gun battles with officers before crashing his BMW into a parked car. He was found dead with a gunshot wound to the head, but officials have not confirmed whether it was self-inflicted or not.
Update — 5:15 p.m. ET: CNN aired an eyewitness report with someone who was on the scene when the shooting occurred. Witness Jahangir Siddiqui described seeing Rodger's BMW crash. "We heard a loud crash and about 30 rounds of gunfire," he said, before he saw police move in on the car. He said when Rodger was pulled out of the car by police, he appeared either unconscious or already dead.
Watch video below, via CNN:
Update — 9:05 p.m. ET:
Watch the Sheriff's Press Conference below:
[Photo via screengrab]
— —
>> Follow Matt Wilstein (@TheMattWilstein) on Twitter
Have a tip we should know? tips@mediaite.com