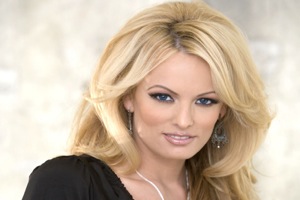 He may have lost some big donors and his most important staffer, but at least GOP Chair Michael Steele can claim a new recruit in adult film star Stormy Daniels. Daniels, who has been contemplating a Senate run for David Vitter's seat in Louisiana, is ready to make the move from lifelong Democrat to loyal Republican thanks to the latter's good taste in bondage-themed night clubs.
Politico has the big news— while Daniels is still playing the will-she-or-won't-she Harold Ford Jr. game and will announce her decision on April 15th, she has confirmed that, should she run, it'll be directly against Vitter in his own party. And not only are her libertarian ideals to blame for her switch. As someone who is employed in the same industry as the workers at Voyeur, the club in which the RNC was recently discovered to have spent $2,000, she appreciated the patronage:
"While this decision has not been an easy one, recent events regarding Republican National Committee fundraising at Voyeur, an L.A.-based lesbian bondage-themed nightclub, finally tipped the scales," she said in a statement. "For me, this spirit can be summed up in the RNC's investment of donor funds at Voyeur. As someone who has worked extensively in both the club and film side of the adult entertainment industry, I know from experience that a mere $1,900 outlay at a club with the reputation of Voyeur is a clear indication of a frugal investment with a keen eye toward maximum return."
The move for a longtime Democrat would be as politically savvy as one can expect from someone with her political experience– not at all. Running as a moderate Republican in the middle of Tea Party Fever 2010 would be bad enough if she were not (a) a porn star, (b) a libertarian, and (c) running against an incumbent with a huge war chest in a primary. On the other hand, Vitter isn't exactly foreign to the sex industry, so it might be a more even-handed match than the pundits would expect.
Have a tip we should know? tips@mediaite.com