WaPo, Wired, and Gawker Slam NY Times for Pseudoscience on Smartwatches Causing Cancer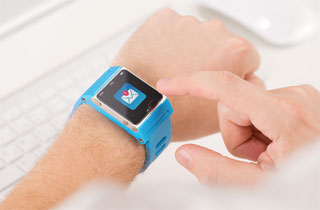 Yesterday, the New York Times published an article about the health concerns surrounding smartwatches, with the rather alarming headline: "Could wearable computers be as harmful as cigarettes?" Though the editors soon changed the headline to something less hyperbolic, the article itself — which entertained the idea that the radiation emitted from smartphones and smartwatches could cause cancer — drew the ire of science journalists across the country for citing debunked studies, and basing most of the article on the work of a doctor generally regarded as a quack.
First, the story itself: Nick Bilton, a technology writer for the Times, decided to write a timely article about the upcoming Apple Watch and how it could PROBABLY CAUSE CANCER:
We have long suspected that cellphones, which give off low levels of radiation, could lead to brain tumors, cancer, disturbed blood rhythms and other health problems if held too close to the body for extended periods.

Yet here we are in 2015, with companies like Apple and Samsung encouraging us to buy gadgets that we should attach to our bodies all day long.
Within hours, no less than seven media outlets, most of them science-oriented publications, piled onto Bilton's reporting, and tore it apart at every juncture.
The Verge pointed out that one of the studies Bilton cited, the International Agency for Research on Cancer's announcement that cell phones were "possibly carcinogenic to humans," wasn't actually a study at all:
Bilton introduces the IARC announcement as "the most definitive and arguably unbiased results in this area." This is somewhat misleading! To start with, it's not really a scientific result — the IARC just surveyed the available literature and decided it didn't rule out the possibility of carcinogenic effects.

It's the closest anyone's come to claiming a link between cancer and cell phone exposure, but it's far from indisputable, a fact the authors freely admit. A footnote to the announcement (which Bilton omits) explains that the ruling is based on limited evidence and that "chance, bias, or confounding could not be ruled out with reasonable confidence."
Popular Science asked an actual professor of epidemiology to analyze Bilton's article:
Geoffrey Kabat, a professor of epidemiology at the Albert Einstein College of Medicine, said that Bilton appeared to be carefully cherry-picking studies that showed what he wanted to. "What struck me about this article was that Bilton went to exactly the worst of the studies," he says. "If you read the best overviews by the most competent people, you'd come away saying that there's no consistent signal that cell phones are causing brain cancer."
And as Gawker, Discover Magazine, The Washington Post, Slate, WIRED, and anyone else who wrote a takedown of the piece noted, Bilton's main quoted source was Dr. Joseph Mercola, a frequent guest on the Dr. Oz Show and the subject of four FDA letters demanding that he retract false or misleading medical claims. While Bilton described him as a "physician who focuses on alternative medicine and has written extensively about the potential harmful effects of cellphones on the human body," critics noted that Mercola's claims are not just unscientifically sound, they're also dangerous. As a Chicago Magazine article described Mercola's views, published on his website Mercola.com:
Each month, nearly two million people click to see the osteopathic physician's latest musings on the wonders of dietary supplements and minerals ("The 13 Amazing Health Benefits of Himalayan Crystal Salt"), the marvels of alternative therapies ("Learn How Homeopathy Cured a Boy of Autism"), and his take on medical research, from vaccines ("Your Flu Shot Contains a Dangerous Neurotoxin") to vitamin D ("The Silver Bullet for Cancer?").
The Public Editor of the New York Times agreed with their criticisms, publishing an article today about how the Style section should have handled the article — they should have run it by their colleagues in the Science section, for instance — and criticized Bilton, whose tech expertise "doesn't make him a health or science expert," for not being cautious while writing the article. "Although Mr. Bilton is a columnist, with plenty of leeway for expressing opinion, the careful interpretation of facts still matters," Margaret Sullivan wrote. "That, too, was lacking."
As for Bilton's response to Sullivan…well:
"The reality is, we still don't know definitively the causes of cellphones and cancer, but I can tell you one thing, as a technology enthusiast myself, I approached this piece thinking all the research was bogus. But, as I noted in my column, after doing my own reporting on this topic, I'm no longer going to talk on my cellphone for long periods of time without a headset. And I will likely also keep my soon-to-be-born son away from cellphone use until his brain develops, as erring on the side of caution, until more research is done, seems to me to be the smart and intelligent approach to this issue."
[h/t The Washington Post]
[Image via Shutterstock]
—
>> Follow Tina Nguyen (@Tina_Nguyen) on Twitter
Have a tip we should know? tips@mediaite.com