WATCH: GMA Meteorologist Ginger Zee Opens Up: 'Life is a Lot Bigger Than' My Anorexia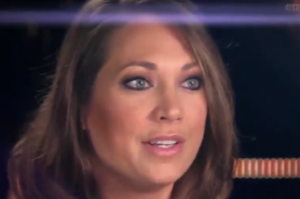 Since we told you that Good Morning America's Ginger Zee was gearing up to compete on Dancing with the Stars, the chief meteorologist has rained her talent down on the competition show and is poised to do very well in next week's finale. She might just win. After all, she was the first contestant this season to earn a perfect score.
Last night, she showed off that she is even more than a meteorologist and a dancer. She is a very complex person. During a segment in which her family and friends were interviewed to paint a picture of her pre-DwtS life, Zee admitted to her struggles with anorexia. She is not the first public figure to address her history of eating disorders, either, but this pre-taped segment was especially noteworthy since it came after judge Carrie Ann Inaba casually commenting on how much Zee has slimmed down since giving birth during the live broadcast.
She explained that after her parents' divorce when she was seven, she sought control and turned to starvation and portion control.
"Ten to 14 was the bulk of my anorexia. I don't think I even know how bad it was at that time," she said. "I'm so angry that that's the way that I decided to cope. You know, it's gonna be with me my entire life. I'm always gonna have body-shaming issues but I think I've now grown into enough of a woman and a mature person that I realize that life's a lot bigger than that."
Watch above to see the heartfelt confession and a bonus appearance from Robin Roberts, who spoke about Zee's passion for the weather.
[image via screengrab]
For more from Lindsey, hit up Twitter or Facebook.
Have a tip we should know? tips@mediaite.com