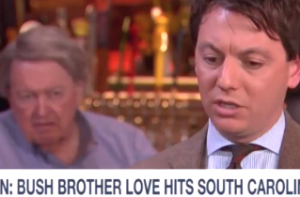 Since the earliest days of television, people have been fascinated with seeing themselves on it. When it comes to the news, the desire to be seen can overtake seemingly anyone. While some shot stealers want the spotlight or to make a statement in the fleeting moments before the camera person pans away, there are also those who simply want to enjoy the moment without causing a scene.
Here. Look at this guy. Just look at this guy:
I love him!
Over the course of an interview between Steve Kornacki and Hogan Gidley on MSNBC today, this unsuspecting tavern patron alternated between pretending to be totally disinterested in the newscast happening in front of him, watching himself on a monitor off to the side, and staring straight at the camera.
The best part is that the camera operator has framed this lucky person as though he is a a fundamental part of the shot. The operator never adjusts the frame, either. This guy just gets to sit and enjoy his new fame. (I think he's enjoying it. Honestly, it's hard to tell.)
I hope whatever this lucky dude went on to do, he enjoyed himself. For his determination to sit quietly and observe for so long, he deserves it. It takes skill to be so impassive and immobile. The GOP candidates would do well to study that poker face before the next debate.
Bonus points to Gidley, who drops the line, "Washington is basically a strip club. Whoever the donors give the money to, that's who does the dance."
[image via screengrab]
For more from Lindsey, follow her on Twitter.
Have a tip we should know? tips@mediaite.com