Weird Science? Most Of the Users of the Dating App For Trump Fans Are Talking to Bots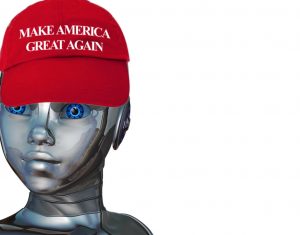 You know how Donald Trump had a whole bunch of fake fans on Twitter during the election, all of [whom/which] tweeted identical praise of him pretty much all the time? Well, bots just like that have appeared on the dating app that was set up for Trump's fans.
Earlier this month, we reported that there was a spike in membership on Trump Singles after the election, but was all of that just a spike in bots? If so, what could the purpose possibly be? Are they designed to troll Trump fans or designed to get money from the fans? The goal of the Twitter bots was clearly to make Trump look like he had a lot of support and encourage others to support him, too, but what could the point of dating bots be?
Joe Veix did a little investigative work for Newsweek by creating an account and looking for "hot conservative singles." He reported that users, some with names like "TrumpLover350" and "DrainMySwamp," were abundant, even around Oakland, California. Weirdly, those same users popped up when he searched a different zip code.
He wrote this:
Reverse-image searching the profile photos led to their original sources, people with different names and no apparent interest in riding the Trump train. A woman named "Diana" is actually porn star Natalie Sparks (whose image is often used in catfishing scams); the profile photo for "Sarah Reynolds" has been posted thousands of times on creepy image boards across the web, usually with captions like "hot girl with glasses"; user "Martine Saul" is actually a popular League of Legends vloggernamed Aline Faria; and one profile features a stock photo, complete with watermark. The latter is titled "Very Angry Woman" on Shutterstock.
Veix suggested that the dummy accounts were created by the site to encourage people to sign up. After all, would you sign up for a dating site if there was no one there to date? (Founder David Goss shot that idea down when Newsweek contacted him.)
More likely than not, the bots are just the spam variety that appear on Snapchat or Instagram, often to entice men into clicking links that purportedly contain even sexier pictures and videos.
Be careful out there.
[image composite: Pixabay/screengrab]
Have a tip we should know? tips@mediaite.com