What The Heck!? Reporters Allowed to Casually Tour Orlando Killer's Apartment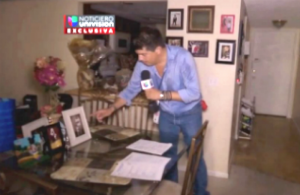 You would think that when they've got America's worst mass killing in years on their hands in years, Florida law enforcement would take utmost care with a crime scene, right? Well, apparently not.
It hasn't even been 72 hours since Omar Mateen murdered 49 people and injured more than 50 others in a seemingly self-hating, homophobic, ISIS-inspired rampage through an Orlando dance club. Naturally, police have tried to secure his apartment as much as they did with Pulse nightclub, but if recent reports are any indication, they've left a lot to be desired in terms of securing the premises.
The Palm Beach Post reported today that unauthorized persons were able to enter Mateen's house. While a great deal of concern has gone towards "foreign reporters" who allegedly got inside without permission, the Miami Herald has reported that it occurred after the FBI allowed the media inside the building.
All of this considered, it is possible that one of two things have happened. Either law enforcement allowed reporters a chance to muck around in the place a terror attack was planned in, or the scene was just left way too unguarded by police.
Nonetheless, here is footage featuring Juan Carlos Aguilar, a Univision reporter, at the house (via ABC):

ABC Breaking News | Latest News Videos
Mateen's apartment was in messy condition, which ABC captioned as due to the police's search of the place for evidence. Clothes and toys were strewn throughout the master bedroom, and Aguilar took note of their personal effects before filming two unknown pamphlets and an expired firearm license inside the kitchen.
The Daily Mail also had their own footage from inside Mateen's apartment, which was featured in a piece they released yesterday. Rick Wiles made this a focus of discussion with his TRUNEWS colleagues, where they remarked that not only was the the apartment clearly not secure by the police, but that there were other reporters who touched things when they went inside.
While Aguilar never seemed to touch anything with his hands in his report, it seems strange that reporters could be allowed inside Mateen's apartment this early, especially if it might've been compromised. Certainly, this draws parallels to the infamous moment when reporters casually walked around the San Bernardino couple's apartment after being allowed in.
The reporters who went in back then received major scrutiny by others in the media for potentially messing with a crime scene. Current Twitter conversation indicates theres are similar concerns about the Orlando apartment reports:
Why did the FBI let the press in there? https://t.co/k0umF5rayb

— Erick Erickson (@EWErickson) June 14, 2016
@EWErickson
Another crime scene contamination effort.

— Ben Anderson (@AndStrats) June 14, 2016
.@abcnews shows footage of Univision in the alleged Orlando shooter's apartment. This is not a crime scene to be secured?

— Nathan M. Hansen (@nathanmhansen) June 13, 2016
Camera crew allowed to enter Orlando shooter's apartment and rummage around the crime scene one day after terror at… pic.twitter.com/fQVhP8L59x

— Rob Gray (@thenighttim3) June 14, 2016
Um, how exactly did @Univision get permission/access to go inside the Orlando shooter's empty apartment? https://t.co/QlJGjLGinG

— jack healy (@jackhealyNYT) June 14, 2016
AGAIN? Camera crew allowed to enter Orlando shooter's apartment to rummage around the crime scene day after largest mass shooting ever? LOL!

— Activist Post (@ActivistPost) June 14, 2016
So, whether it's because of a burglar or because reporters were prematurely allowed to stroll around a crime scene, this may pose some serious problems to the official investigation.
[Image via screengrab]
— —
>> Follow Ken Meyer (@KenMeyer91) on Twitter
Have a tip we should know? tips@mediaite.com