Where to Watch the New York Primary Results by Network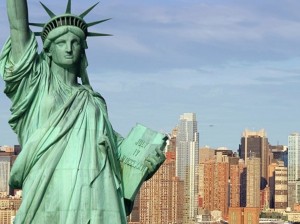 With the races in both the Democratic and Republican parties about as close as they're likely to get, all eyes shift to the Empire State for Tuesday's all-important primary battle. The delegate counts are high and the stakes are even higher, with candidates in both parties looking to claim New York as their own.
On the Democratic side of things, it's a fight for home turn legitimacy. Former Secretary of State — and former New York Senator — Hillary Clinton holds a lead over Brooklyn-born Bernie Sanders heading into today's primary, but it's far from over. The self-described Democratic-Socialist has been turning out record crowds in all five boroughs; however, Clinton's impressive 2008 showing in the Empire State indicates her favorability with New Yorkers is high (she won all but one county against then-Senator Obama).
As for the GOP, many are expecting a polling bloodbath of sorts, as Donald J. Trump heads into the primary contest with an astounding 30.0 point lead over his next closest competitor, Texas Senator Ted Cruz. "New York values" have been front and center in this election cycle, with hometown Trump hammering Cruz in the media and the Big Apple tabloids following suit. Also in the mix is Ohio Governor John Kasich, who continues to fight it out for a seat in a contested convention this summer.
All of the main cable news networks will carry coverage from Tuesday's New York primary.
via NY Board of Elections: In New York City and the counties of Nassau, Suffolk, Westchester, Rockland, Orange, Putnam and Erie, POLLS OPEN AT 6 AM – CLOSE AT 9 PM. In all other counties, POLLS OPEN AT 12 NOON and CLOSE AT 9 PM. General Election.
—
FOX Business Network (FBN) will present live coverage of the Democratic and Republican New York primary results on Tuesday, April 19 at 8PM/ET. FBN's Neil Cavuto will host a special edition of Cavuto: Coast to Coast with coverage and analysis as the results come in.
FOX News Channel (FNC) will provide special live programming to cover the New York Primary on Tuesday, April 19th. FNC's The O'Reilly Factor will be live from 8-8:50PM/ET. Bret Baier and Megyn Kelly will then co-anchor America's Election Headquarters (AEHQ) from 8:50-9:20PM/ET to announce the results and breakdown the polling data. At 9:20PM/ET, FNC will flip over to The Kelly File, followed by Hannity live at 10PM/ET. Baier and Kelly will then return for an 11PM/ET edition of AEHQ until Heather Childers and Eric Shawn take over from 1-4AM/ET. Also joining the evening's coverage will be Bill Hemmer on the "Bill-board" and Martha MacCallum analyzing the exit poll data. Additionally, the Campaign Cowboys, including FOX News Sunday's Chris Wallace, FNC contributors Karl Rove and Joe Trippi, will provide analysis throughout the night. FNC's Ed Henry, John Roberts, Carl Cameron, David Lee Miller, Garrett Tenney, Bryan Llenas and Molly Line will also be corresponding from select campaign and voter locations.
CNN will broadcast American's Choice 2016: Super Tuesday beginning at 8 p.m. ET with continuing coverage in the evening until 2 a.m. ET.
MSNBC: Coverage kicks off with an afternoon edition of "Morning Joe" at 3pm followed by "MTP Daily" at 5pm, "Place for Politics" hosted by Steve Kornacki at 6pm, "Hardball" at 7pm and then primetime coverage with Rachel Maddow and Brian Williams begins at 8pm.
— —
Watch live results below (when available), via ABC News:

ABC Breaking News | Latest News Videos
Watch live results below (when available), via NBC News:
Have a tip we should know? tips@mediaite.com