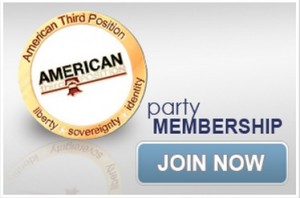 It's Gun Appreciation Day Eve, the day before some Americans will mark the Martin Luther King Day/Obama inaugural weekend by visiting gun ranges, gun stores, and gun shows armed with copies of the U.S. Constitution, American flags, and "Hands Off My Guns" signs "to send a loud and clear message to Congress and President Obama."
Although Gun Appreciation Day chairman Larry Ward assures people that Martin Luther King would have approved of his demonstration, the group's sponsors include a White Nationalist party called The American Third Position, which "believes that government policy in the United States discriminates against white Americans, the majority population, and that white Americans need their own political party to fight this discrimination."
The Southern Poverty Law Center has designated A3P a "white nationalist hate group," and the Anti-Defamation League calls them a "white supremacist political party."
Also from the Anti-Defamation League:
Publicly identified leaders of the A3P are its chairman William D. Johnson, a California lawyer who has run for office in Wyoming, Arizona and California; and four directors: Kevin MacDonald, an anti-Semitic professor of psychology at California State University-Long Beach; James Edwards, a Tennessee-based white supremacist who runs the Political Cesspool radio show; Tomislav Sunic, a white supremacist author and radio show host and Don Wassall, a white supremacist who founded the racist and anti-Semitic American Nationalist Union.
American Third Position is one of dozens of Gun Appreciation Day sponsors, and although there is no fee to become a sponsor, Gun Appreciation Day's approval is required:
Obama, Feinstein and the rest gun grabbing, opportuniists are dead set on passing Gun Control Legislation this Month.

This is the 'line in the sand' moment for those of us that love the Constitution. Americans need to make a powerful statement that will put the fear of God in our politicians that are thinking about infringing upon our Second Amendment Rights.

If you have an Political or Member Organzation, Non-Profit, For Profit, PAC, Blog, Newsletter and/or Facebook Fan Pageand want to help spread the message of the first ever national Gun Apprecation Day we want to add your group to our website as a sponsor.

No cash required (we will accept contributions to help us buy ads Online and On Air) , we just ask that you spread the word to your memebers, fans and followers every day until and including January 19, 2013.

Simply fill out the form below and we will be in touch.
Most of the Gun Appreciation Day sponsors are gun retailers, or other firearms-related businesses, along with gun advocate groups. Oddly, GAD was able to snag the sponsorship of Men Who Support Women Against Gun Control, but haven't yet landed Women Against Gun Control. The Angry Pepper, a Connecticut-based food company, is also a sponsor, as is Puerto Rico Armed Citizen, which appears to have signed up before American Third Position did.
Media Matters For America, who flagged the White Nationalist sponsorship, has a lot more information on American Third Position, but for my money, the Gun Appreciation Day sponsor that really says it all is this one: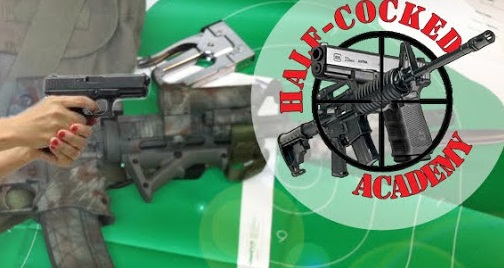 Not to make light of a serious medical condition, but if you were among the ranks of Half-Cocked-Americans, you'd probably be clinging to your stockpile of guns, too.
Update: Gun Appreciation Day has removed American Third Position from the event. From Media Matters:
In a statement responding to Media Matters' report, Gun Appreciation Day wrote that while they have attempted to screen out groups "that might detract from the message," "We mistakenly missed one. We have removed the group and reiterate this event is not about racial politics, it is about gun politics." The statement:

The small hard working staff at Political Media, Inc has been working diligently throughout the Gun Appreciation Day Campaign. The volume of support we have received has been overwhelming. We decided to have an open registration for sponsorship for Gun Appreciation Day put a screening process in place to avoid associating the event or Political Media, Inc. with groups or businesses that might detract from the message.

We mistakenly missed one.

We have removed the group and reiterate this event is not about racial politics, it is about gun politics. We believe in equal rights of ALL Americans in every race, gender, religion, location and economic class to keep and bear arms as guaranteed to them in the Bill of Rights.

Gun Appreciation Day also wrote on its Facebook page: "Guys, the screening process of our sponsors was apparently not deep enough – We have corrected the problem, but you should know the left wing media called us out on it as they should have. We know better and I apologize for not catching this…but we are forging ahead – This is about Gun Liberty for all."
Have a tip we should know? tips@mediaite.com