White Nationalist Tells Reporter: Donald Trump's 'Arrow Is Pointing In Our Direction'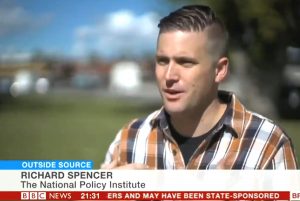 In a BBC report that aired Thursday, a white nationalist leader named Richard Spencer explained that Donald Trump is following in the footsteps of what the white nationalist movement has been doing for years.
"Donald Trump came along and I feel like my movement and ideology, we can be a kind of vanguard for a presidential candidate," Spencer said. "His arrow is pointing in our direction."
Spencer is the president of the National Policy Institute, a white nationalist think tank founded in 2005 and based in Virginia, and "a radical white separatist whose goal is the establishment of a white ethno-state in North America," according to the Southern Poverty Law Center. He resides in Whitefish, Montana, where the interview took place.
"Immigration is a kind a proxy war—and maybe a last stand—for White Americans, who are undergoing a painful recognition that, unless dramatic action is taken, their grandchildren will live in a country that is alien and hostile," Spencer wrote in a column on his website in 2014.
Spencer's remarks echo those of other white nationalist leaders, including Jared Taylor who has written extensively about the need to preserve the white race. Taylor said in March that although Trump was not a "sophisticated racialist," he had "good instincts" and was likely to fill his administration with people who "think the way we do" and "read our web pages" and "listen to our podcasts."
You can watch the video here, via BBC
—
Sam Reisman (@thericeman) is a staff editor at Mediaite.
Have a tip we should know? tips@mediaite.com