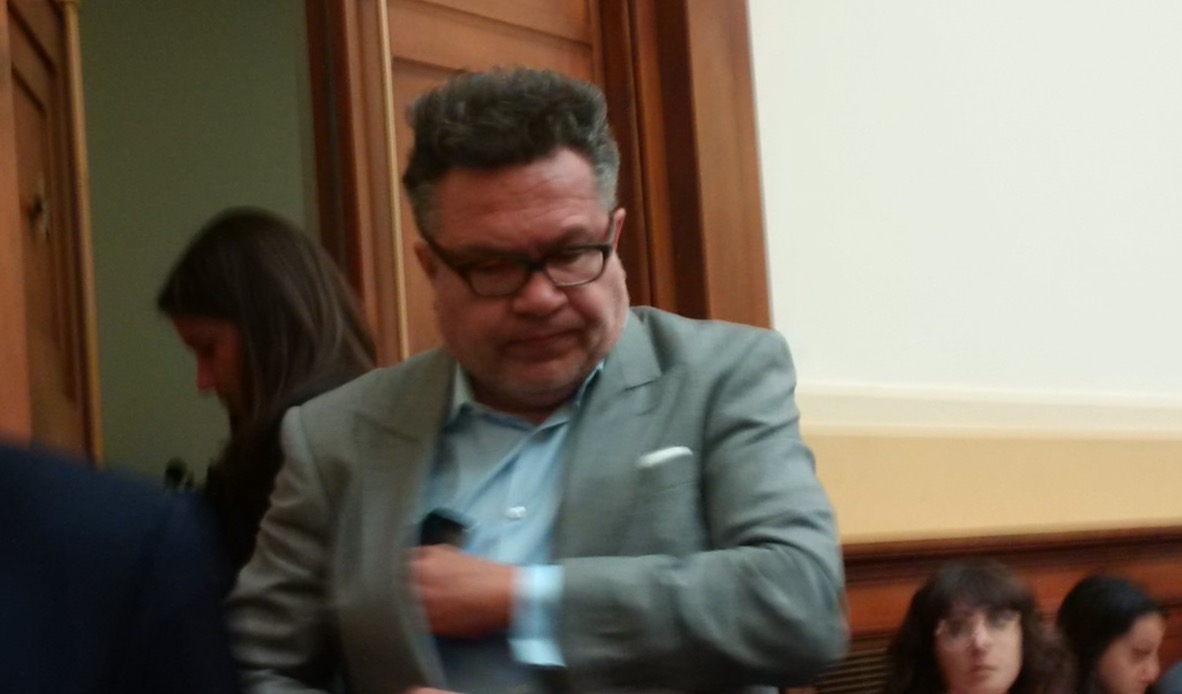 Speculation is rampant over the mysterious fifth person who attended the meeting between Donald Trump Jr. and a Russian lawyer at Trump Tower in June, 2016 — and AP have now confirmed that it was Rinat Akhmetshin, a former Soviet counter intelligence officer.
The now infamous meeting between the president's son, Russian lawyer Natalia Veselnitskaya, Paul Manafort and Jared Kushner was disclosed after a series of New York Times reports prompted Don. Jr to confess to having attended the gathering with the goal of obtaining dirt on Hillary Clinton from the Russian government.
Per the Daily Beast, Veselnitskaya represents HRAGI, which has lobbied to end the ban on American adoption of Russian children — a policy put in place in response to the Magnitsky Act.
"Among HRAGI's lobbyists is Rinat Akhmetshin, who has described himself as a former Russian counterintelligence officer, but said he is no longer in the government's employ," the Daily Beast writes.
Veselnitskaya had initially told NBC that a fifth person attended the Trump Tower meeting, but declined to reveal who. Business Insider has a fairly comprehensive report on the fifth attendee, writing that "there are several indications that the fifth person in the meeting was Rinat Akhmetshin, a Russian-born lobbyist accused of having ties to Soviet military intelligence who has been working to overturn the Magnitsky Act since at least last year."
Both Akhmetshin and Veselnitskaya worked extensively to have Congress rescind the Magnitsky Act, which was passed in response to the death of Russian tax lawyer Sergei Magnitsky, who died in prison under suspicious circumstances after revealing high-level corruption in Vladimir Putin's government.
Business Insider spoke with William Browder, the founder of an investment firm who spearheaded the Magnitsky Act, and said "there is only one person who fits" the profile of who was described in an NBC story.
According to court filings, Akhmetshin is a U.S. citizen, now living in Washington D.C. He founded and serves as the CEO of International Eurasia Institute for Economic and Political Research, which provides research on business disputes for Russian and Kazakhstan clients.
Though Akhmetshin contends he is no longer a Kremlin agent, Browder notes that in "the world of Russian intelligence, there is no such thing as a 'former intelligence officer.'"
The meeting occurred five days before the Democratic National Committee was attacked by hackers working on behalf of Russia's intelligence agency.
Don Jr.'s lawyer told NBC on Thursday that there also may have been a sixth person at the meeting.
[image via William Browder]
—
Follow Aidan McLaughlin (@aidnmclaughlin) on Twitter
Have a tip we should know? tips@mediaite.com
Aidan McLaughlin - Editor in Chief