Will Ferrell And John C. Reilly Play David Bowie And Bing Crosby In Holiday Video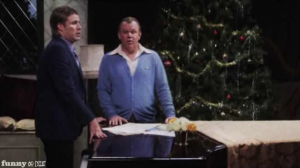 And The Twelve Days of Random, Online Christmas Videos continues unabated with a doozy from the folks over at Funny or Die. In it, Will Ferrell and John C. Reilly don wigs, Christmas sweaters, and terrible, terrible British accents to transform themselves into David Bowie and Bing Crosby so they can re-enact the unlikely pair's performance of "Peace on Earth/Little Drummer Boy."
For those unfamiliar with the original performance, Bowie and Crosby performed it in the Christmas special Bing Crosby's Merrie Olde Christmas, and the video of this song in particular, with its random coupling, has stuck around as basically 1977's Gylne Tider video. Of course, this was 1977, and people watched it on TV instead of a fancy computer. And these TVs had small screens, were two-dimensional, and weren't capable of connecting to the Internet so you could sign onto Facebook and post "OMG CROSBY AND BOWIE WTF LOLZ!" The sets also, presumably, had little prehistoric birds or sabertooth tigers inside that would look at the camera, shrug, and say "Eh, it's a living." At least, I think that's what 1977 TVs were like. I can't remember because, if you can remember the 70s, you weren't there, man.
Or is that the 60s? I can't remember. I was there, man.
Anyway, back to 2010 and our futuristic world of jetpacks, pellet meals, and websites where famous celebrities can kill some time making silly little videos. The Ferrell/Reilly version perfectly captures every detail of the original. How well? Well, look at this comparison:




Impressive. Check out the video from Funny or Die below. Check out the original here.
(via The Comic's Comic)
Have a tip we should know? tips@mediaite.com