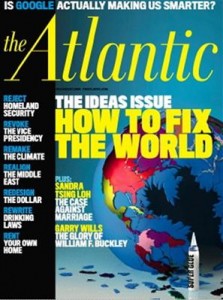 The Atlantic, a magazine founded when there were only thirty-one states in the union, will be making a profit this year—for the first time in at least a decade, according to the New York Times. They did this by imagining themselves "as a venture-capital-backed start-up in Silicon Valley whose mission was to attack and disrupt The Atlantic." Yet beneath the digital makeover, they're still print sentimentalists at heart—which they proved when they called the customer whose check officially brought them out of the red.
As the Times story notes, "profitability is a new enough concept at The Atlantic that some there seem almost giddy about it." That would include David Bradley, the man who purchased the magazine from Mort Zuckerman back in 1999.
Mr. Bradley asked his accounting department to find out which subscriber's check officially put the company into the black. They pinpointed a woman from Livingston, Tenn., who sent in a $29.95 check for her renewal on Oct. 1. Mr. Bradley got her phone number off the check and called her to say thank you.

At first she mistook him for a telemarketer and almost hung up on him, but not before he promised to pay for her subscription for the next 10 years.
Bradley's call was more than a quaint gesture; the man has reason to be genuinely excited. The article reminds readers that "The Atlantic lost $4.5 million in its first year under Mr. Bradley's ownership," a number that only ballooned over the years.
Of course, it took more than a bunch of $30 subscriptions to bring about the $1.8 million in profits his magazine's slated to make this year. You can read more about the magazine's turnaround here.
Have a tip we should know? tips@mediaite.com